Description
ZERO 10 Rear Drive Electric Scooter
The ZERO 10 electric scooter is a full-sized workhorse of an electric scooter.
It comes with integrated shock-absorbers in the front steering column and a set of sophisticated and beautifully designed rear twin hydraulic suspension.
With 10-inch pneumatic wheels and front and rear disc brakes, it offers excellent ride quality and safety. The ZERO 10 e-scooter out-performs most other scooters of a similar size with its powerful 1000W (1600W peak) motor. All these at a very compelling price.
The ZERO 10 is an excellent alternative to the Speedway 4 and a top choice for a full-sized touring or commuting electric scooter.
Built-in headlight and deck light complies with regulations for riding at night. Front and rear disc brakes for effective stopping power. Collapsible handle grips for easy storage. Clear and easy-to-read LCD display. Generous deck space for comfortable riding. Twin rear shock absorbers for smooth riding, rear deck lights are built-in.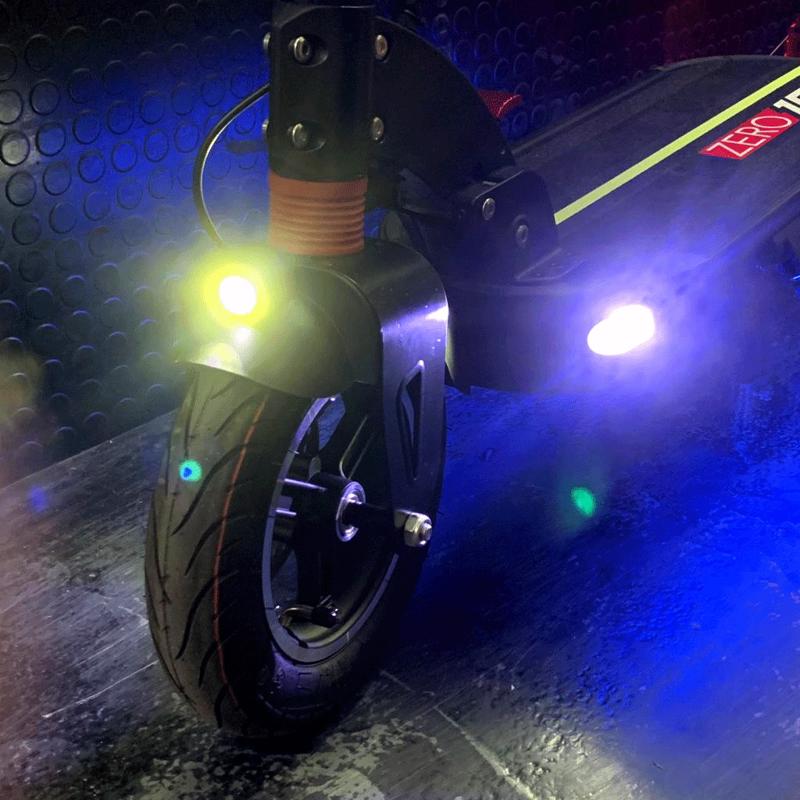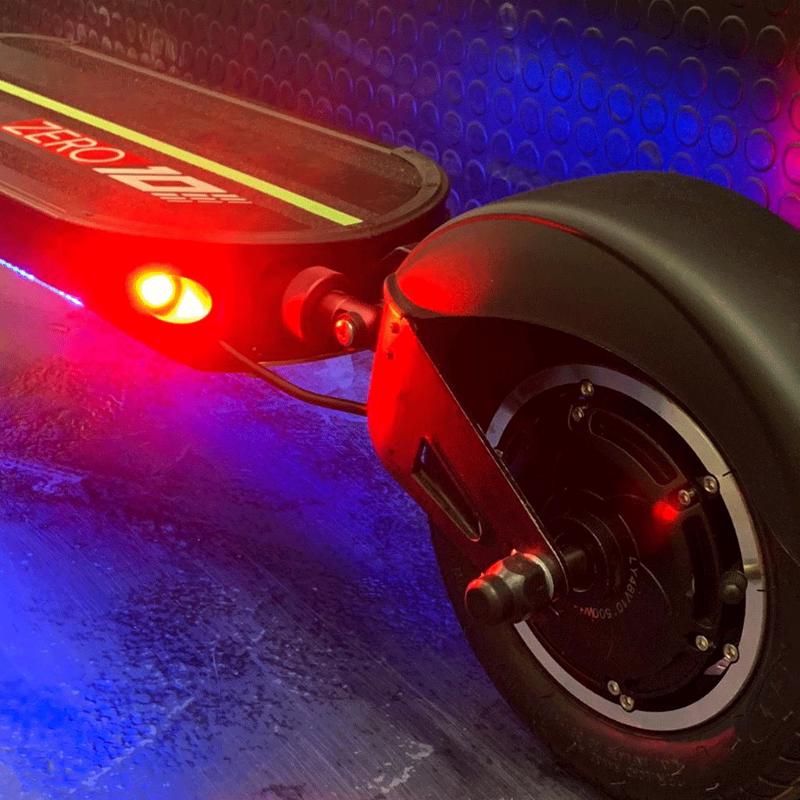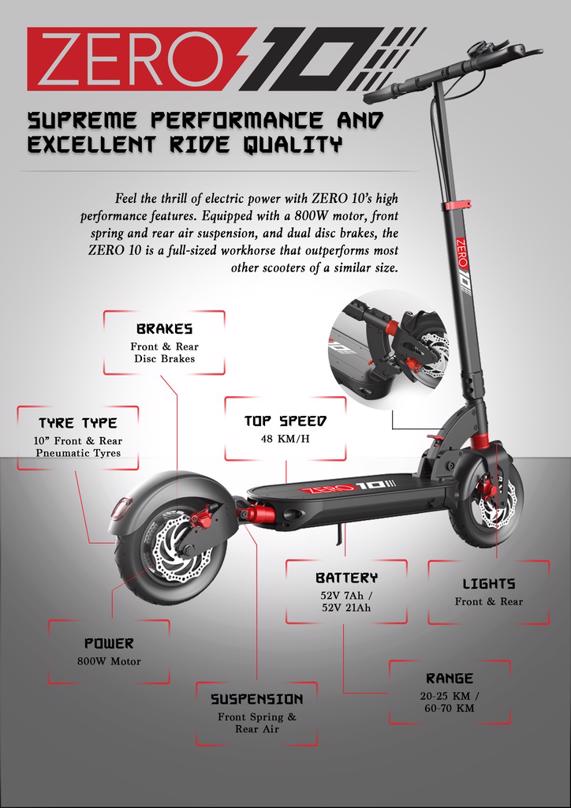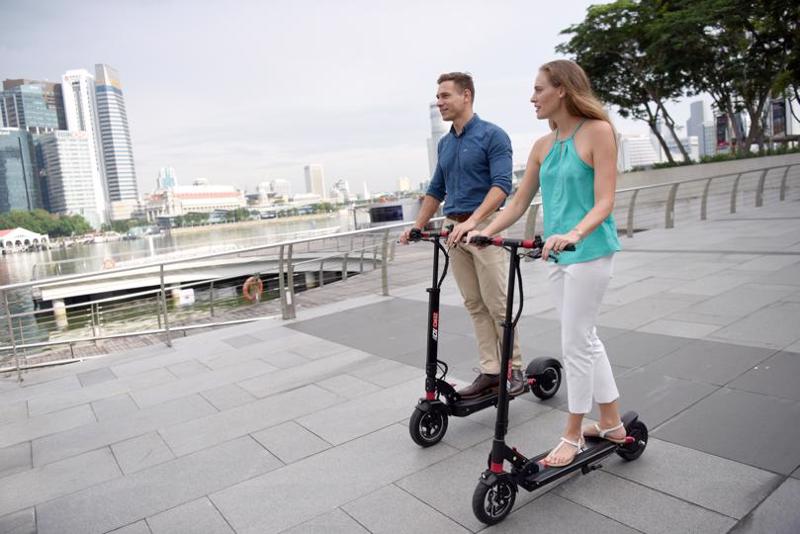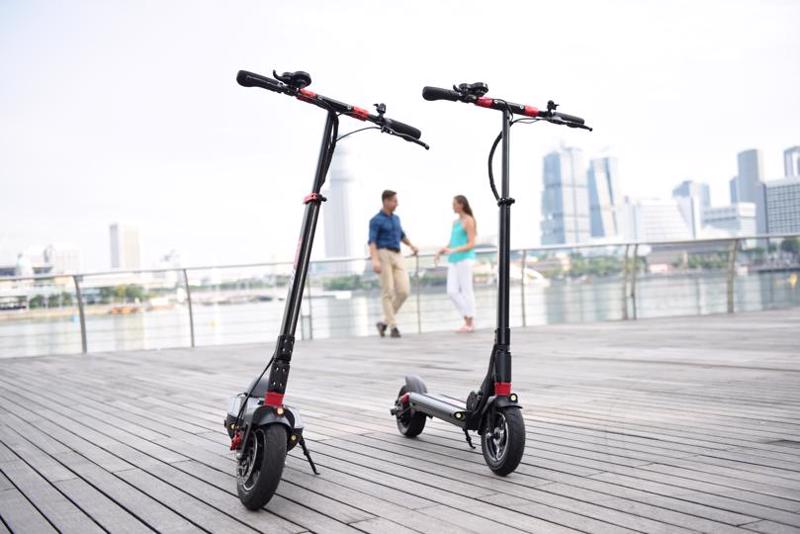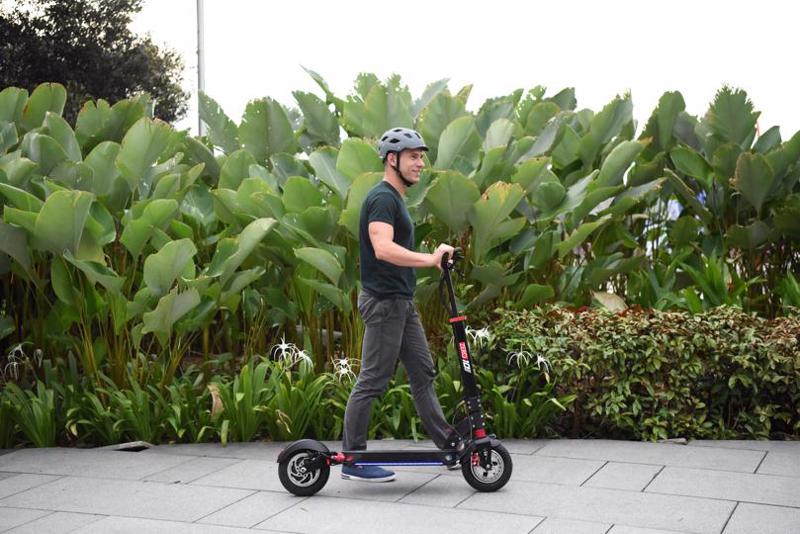 Specification
Battery: 52V 18 Ah
Wheel: 10 inches x 2.5 inch
Tyre type: Front & Rear pneumatic
Brakes: Front & Rear Disk brake
Range: ~60-70 km (40 miles)
Max Payload
120kg (265 lbs)
Top Speed: 48 km/h (30 miles) *
Weight: 24 Kg (53 lbs)
Suspension: Front spring, rear air shocks
Lights: 3 Front LED & 2 rear LED in-built, & ambient
Controller: 25A
Motor Power:
1000W Single Rear Wheel drive (1600W Peak)
Box Dim.
1230 x 320 x 500 mm
Charge Time: Approximately ~ 8 - 9 hrs
*Zero electric scooters have limited speed switch option to 15mph (24Km/h) to comply with DOT regulations and insurance requirements. Riding at faster speed may be unlawful.
Warranty
Parts Warranty: 6 Months Limited Warranty *on main components i.e. Hub motor, Battery packs (except if battery was short circuited or seals of the battery enclosure or cells were broken or were tempered or the battery was used in equipment other than its intended use), Controller, Throttle and battery indicator unit, Charger unit.
Labour Warranty: 6 Months Limited Warranty
---
Authorized Warranty and Support Contact:
Smart Wheel Canada
Call 1.888.407.4997 option 3
Warranty Limitations / Exclusion:
Damage to the product from misuse and/or neglect, accidental damage, water/liquid damage, salt damage or from not adhering to the instructions in the Owner's Manual. Damage caused by exceeding maximum weight, attempting tricks or running into obstacles like curbs or walls, water or liquid damage or submerges into the water. Improper or invalid documentation, including but not limited to lack of a warranty sheet, original invoice or discrepancies on the invoice.
View All
Close