Description
ZERO 8X Dual Wheel Drive Electric Scooter
The ZERO 8X electric scooter is everything the ZERO 10X is
: a powerful, dual suspension, dual drive scooter. Except, the Z8X is a shorter tire (solid tire) and more compact than the Z10X, making it the love child of the Z10X and Z8.
The front and rear suspension on the ZERO 8X shares the same system as the ZERO 10X, using a hybrid spring and hydraulic suspension system. If you liked the floating feel on the Z10X, you will feel the same floating suspension on the Z8X. The 8x 3.5 inch tires are honeycombed solid tires which does not require any air inflation (no risk of punctures) but achieves a nice comfortable bounce similar to air/pneumatic tires. Z8X is equipped with 2 front and 2 rear LED lights with under chassis lights, the ZERO 8X has a flood of lights that makes night riding safe and visible. The rigid foldable handlebars on the Z8X are a bulky departure from the Z10X. Unlike many other foldable handlebars on the market, the Z8X's handlebars have absolutely no free play and the 60cm length provides a stable comfortable handle grip. The same double quick release folding mechanism on the Z10X was applied to the Z8X. This double clamp system gives the entire steering stem rigidity and strength.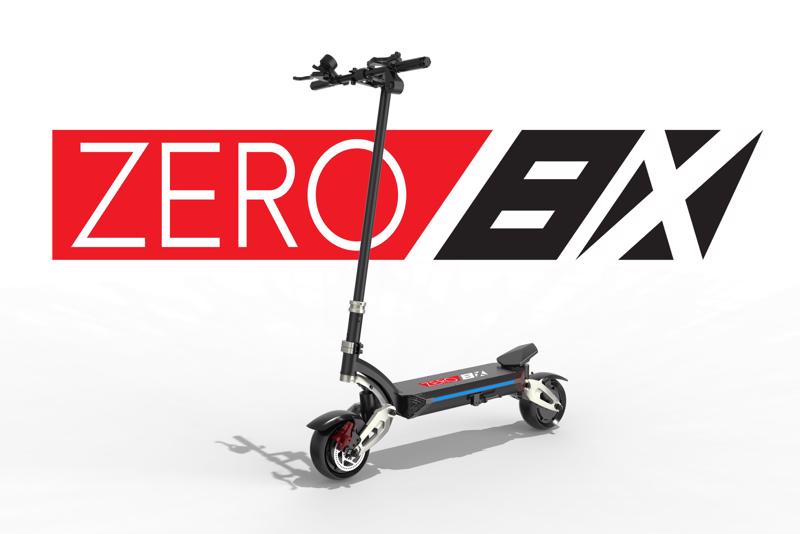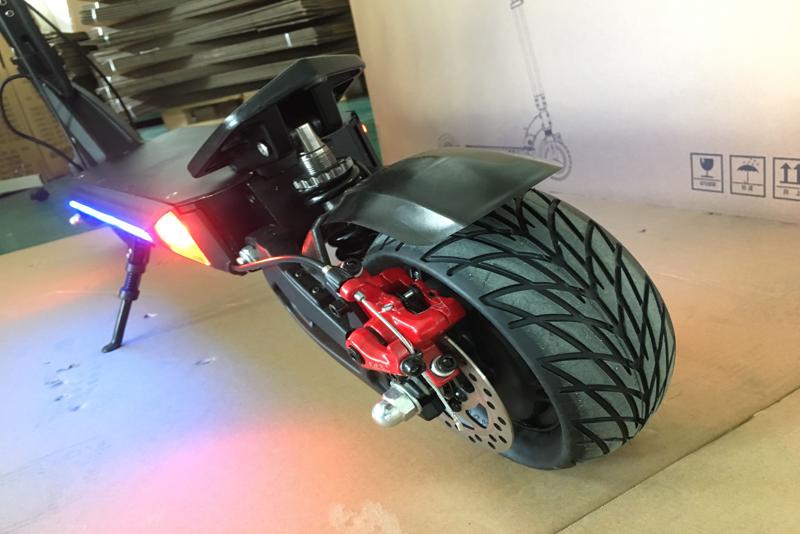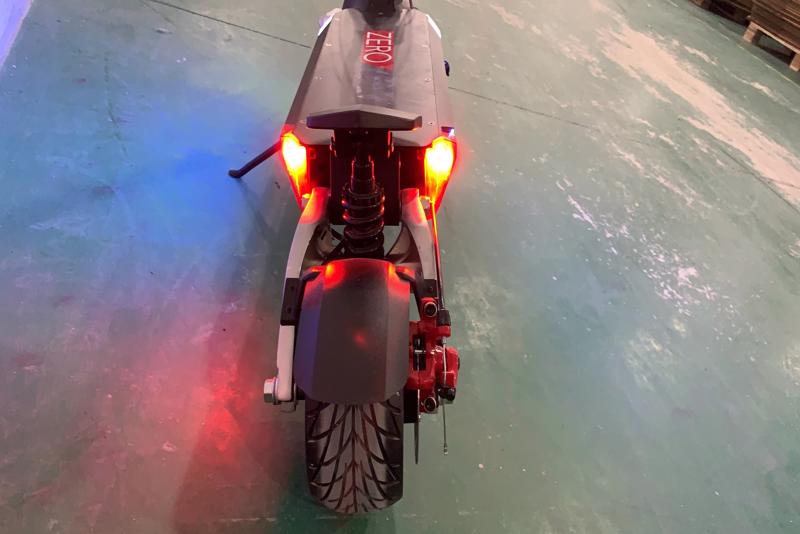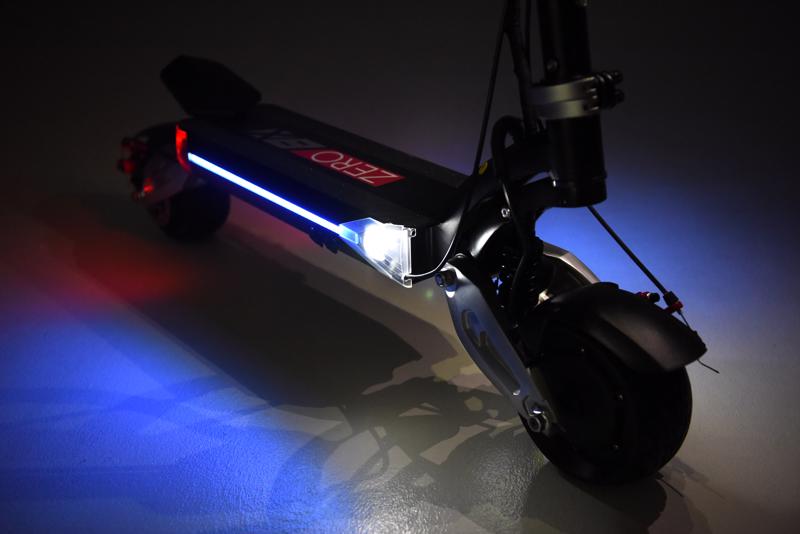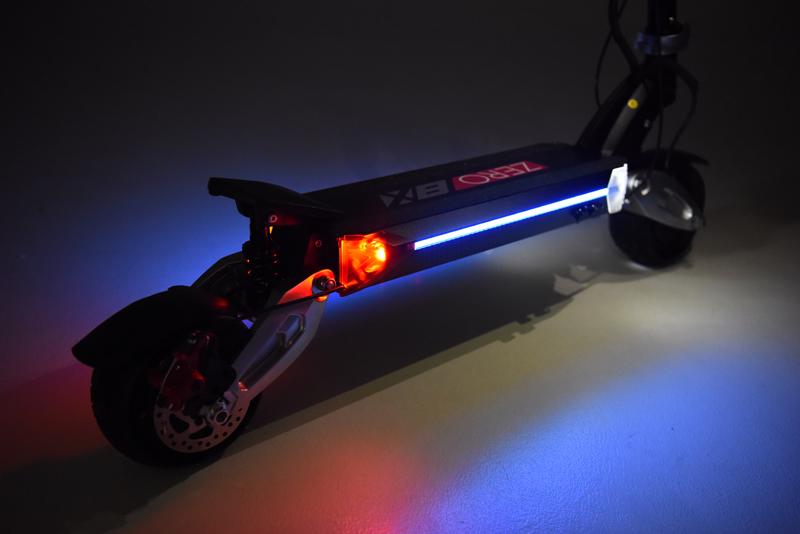 Specification
Battery:
52V 18Ah (18650 cells)
Wheel Size: 8 x 3.5 inches
Tyre type: Front & rear solid
Brakes: Front & rear disc brakes
Range: 65-75km (Eco single motor mode) for 18Ah
Top Speed: 55km/h *
Weight; 33Kg (72.7lbs) for 18ah
Max. Load: 120 Kg (265 lbs)
Suspension: Front and rear spring hydraulic suspension
Lights: Front & rear LEDs
Controller: 2 x 20A
Motor Power:
800W x 2 (dual motor peak power output of 2300W combined)
Dimension (folded): 118 x 33 x 44.5 cm
Box Dim: 122 x 34 x 56.5 cm
Charge time: ~ Approximately 6 - 8 hrs
*Zero electric scooters have limited speed switch option to 15mph (24Km/h) to comply with DOT regulations and insurance requirements. Riding at faster speed may be unlawful.
Warranty
Parts Warranty: 6 Months Limited Warranty *on main components i.e. Hub motor, Battery packs (except if battery was short circuited or seals of the battery enclosure or cells were broken or were tempered or the battery was used in equipment other than its intended use), Controller, Throttle and battery indicator unit, Charger unit.
Labour Warranty: 6 Months Limited Warranty
---
Authorized Warranty and Support Contact:
Smart Wheel Canada
Call 1.888.407.4997 option 3
Warranty Limitations / Exclusion:
Damage to the product from misuse and/or neglect, accidental damage, water/liquid damage, salt damage or from not adhering to the instructions in the Owner's Manual. Damage caused by exceeding maximum weight, attempting tricks or running into obstacles like curbs or walls, water or liquid damage or submerges into the water. Improper or invalid documentation, including but not limited to lack of a warranty sheet, original invoice or discrepancies on the invoice.
Download
LCD User Manual Zero 8X / 10X

View All
Close
1 Review
After 900km on this thing, i can easily say that its a damn good scooter for the road. Offroad is not something you want to do with this thing. But like i said. What a roadster! This thing drive like a mustang or a camaro. Turns are hard but so stable on straight lines. I love it so much.
View All
Close