Description
Kingsong did it again, world's first full suspension Electric Unicycle (EUC) is here. The KingSong KS S18 electric unicycle is completely new design sports inspired body and suspension is going to blow your mind. Aerodynamics with air intake system, Aggressive curvature design and variable linkage dampening air suspension system using 200-57 suspension is what makes this unique and of its own kind. Kingsong S18 with its powerful motor of 2200W, 1110Wh battery, and ergonomically designed to connect rider with the wheel and creates a whole new rider experience.
Adjustable Suspension is interchangeable and allows for personal modification and custom ride style. Adjustable air suspension system can be turned on or off. Off state still reacts to big bumps but will ride similar to a wheel without suspension. Rotary switch for sensitivity adjustment. Different pressurization can be adjusted to according to rider weight. Padding designed in cooperation with Kujirolls.
Other Feature Includes: 12 MOS design connected to aluminum body frame for fast heat dissipation without the need of fan. King Song S18 euc's Headlights are 2 times stronger to the 16X with 2*5w (high beam) and 2*4w (short beam) with automatic sensor to switch between modes. Ergonomic handle designed for pushing and lifting which can be hidden inside the body frame when not in use. First ever high performance wheel with limited wiring with all key components housed on PCB. Rear light displaying battery level, braking and turning signals all within one singular unit. 21700 Battery system for better; efficiency to space ratio.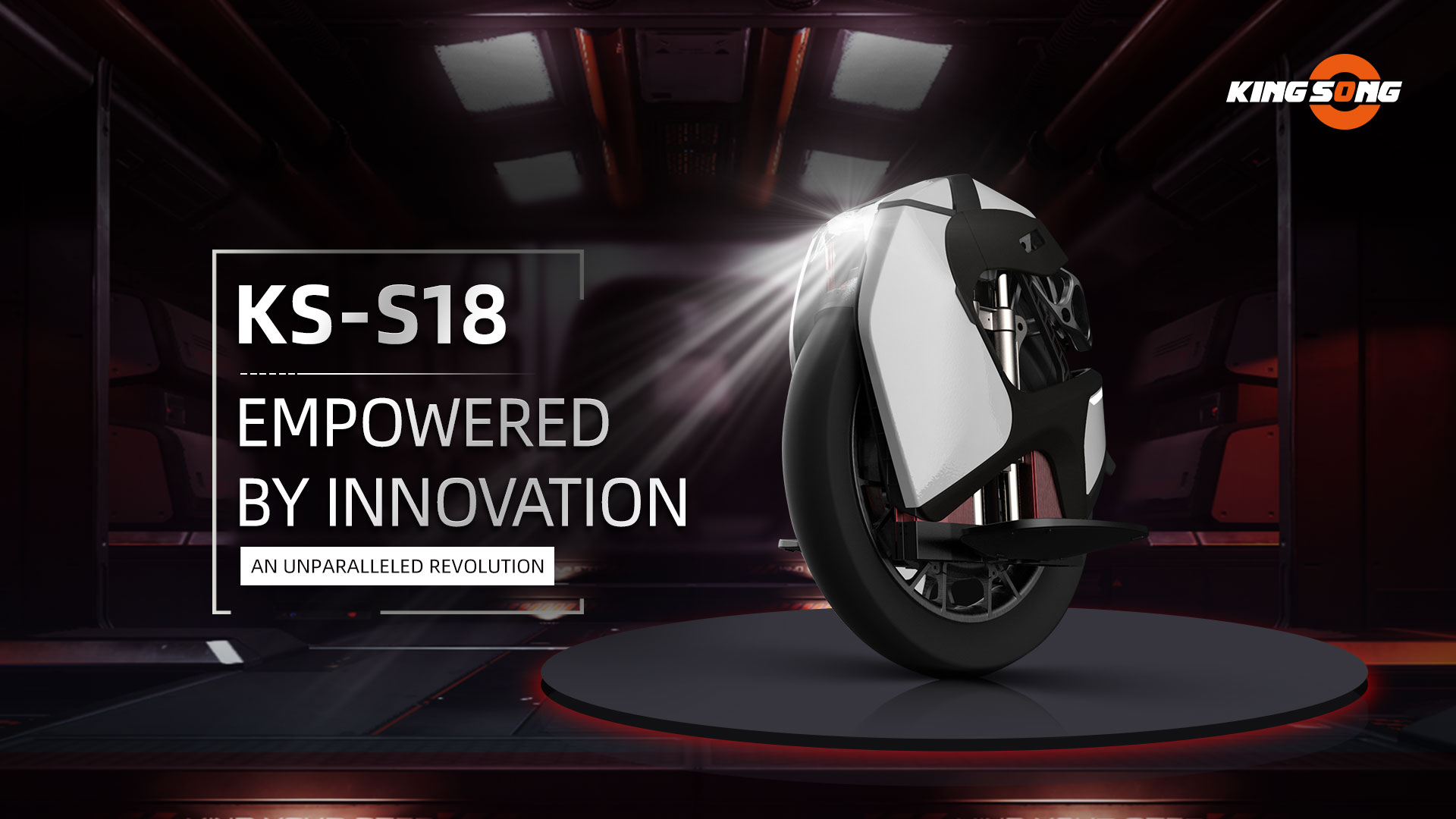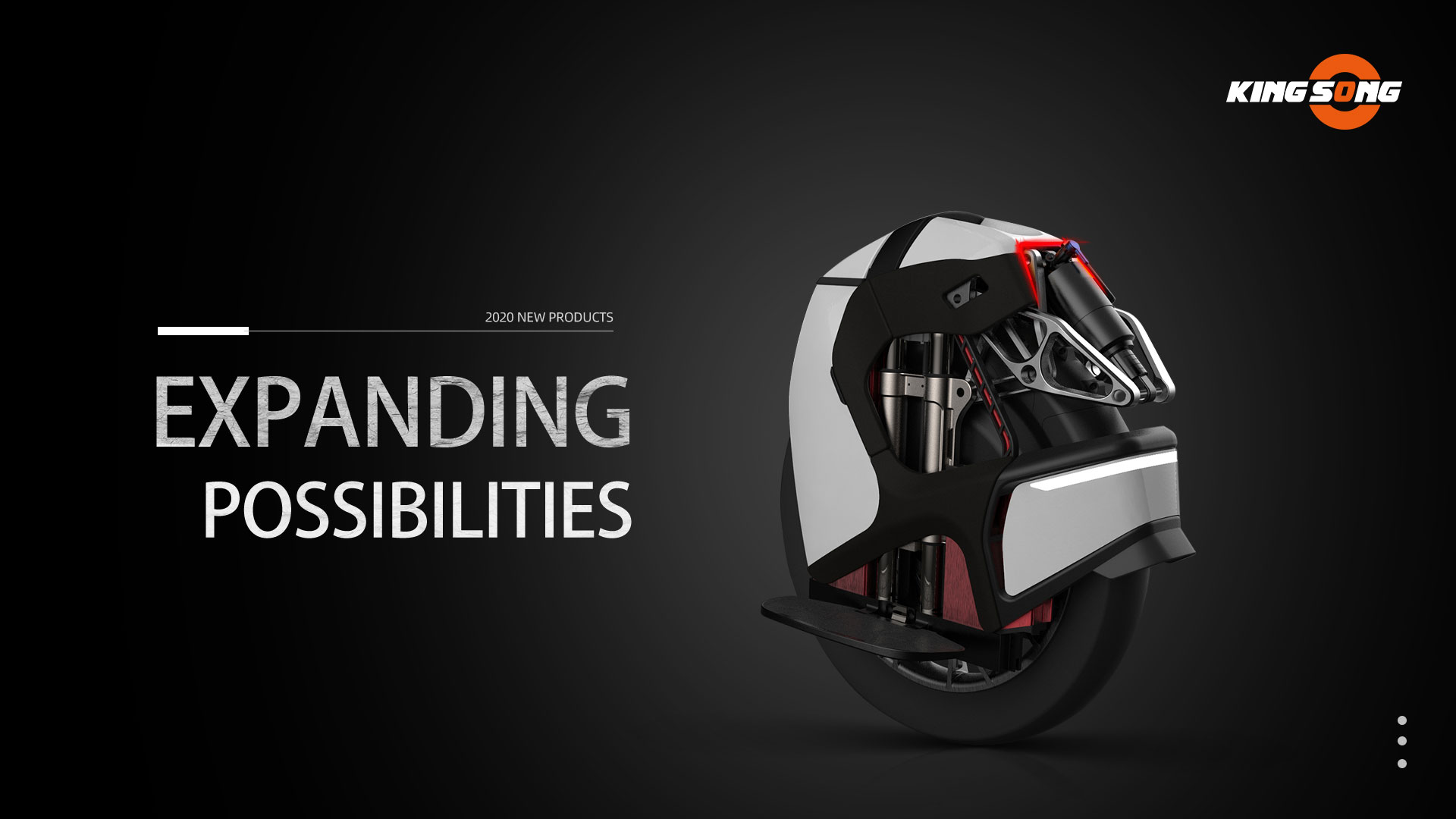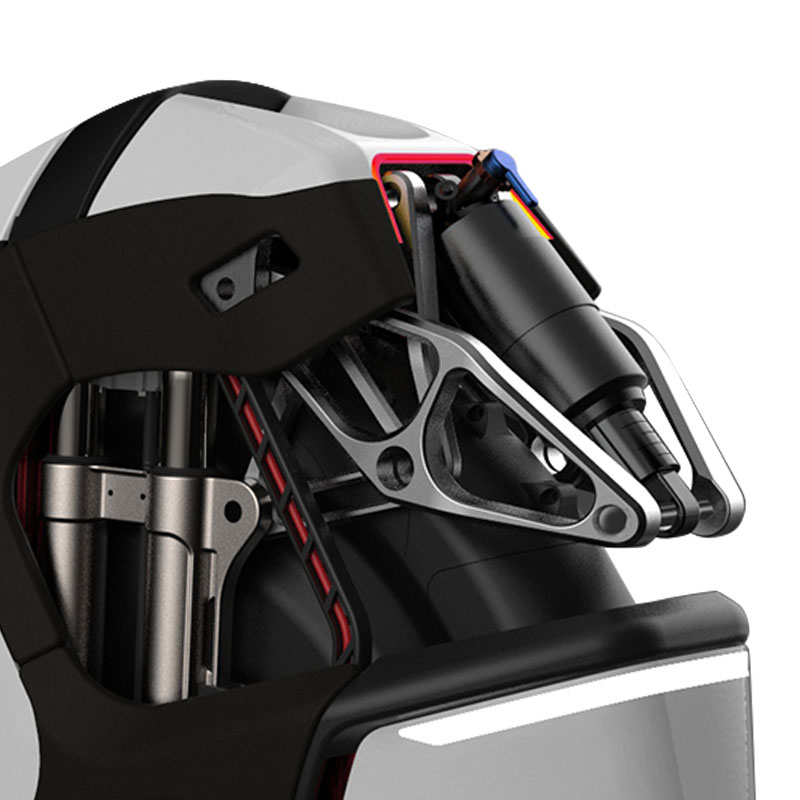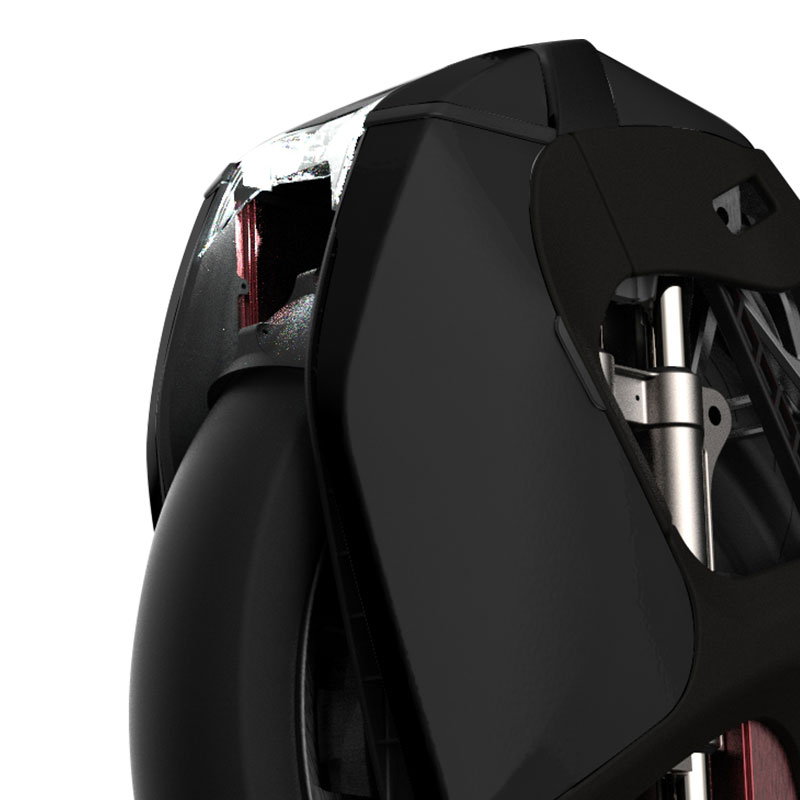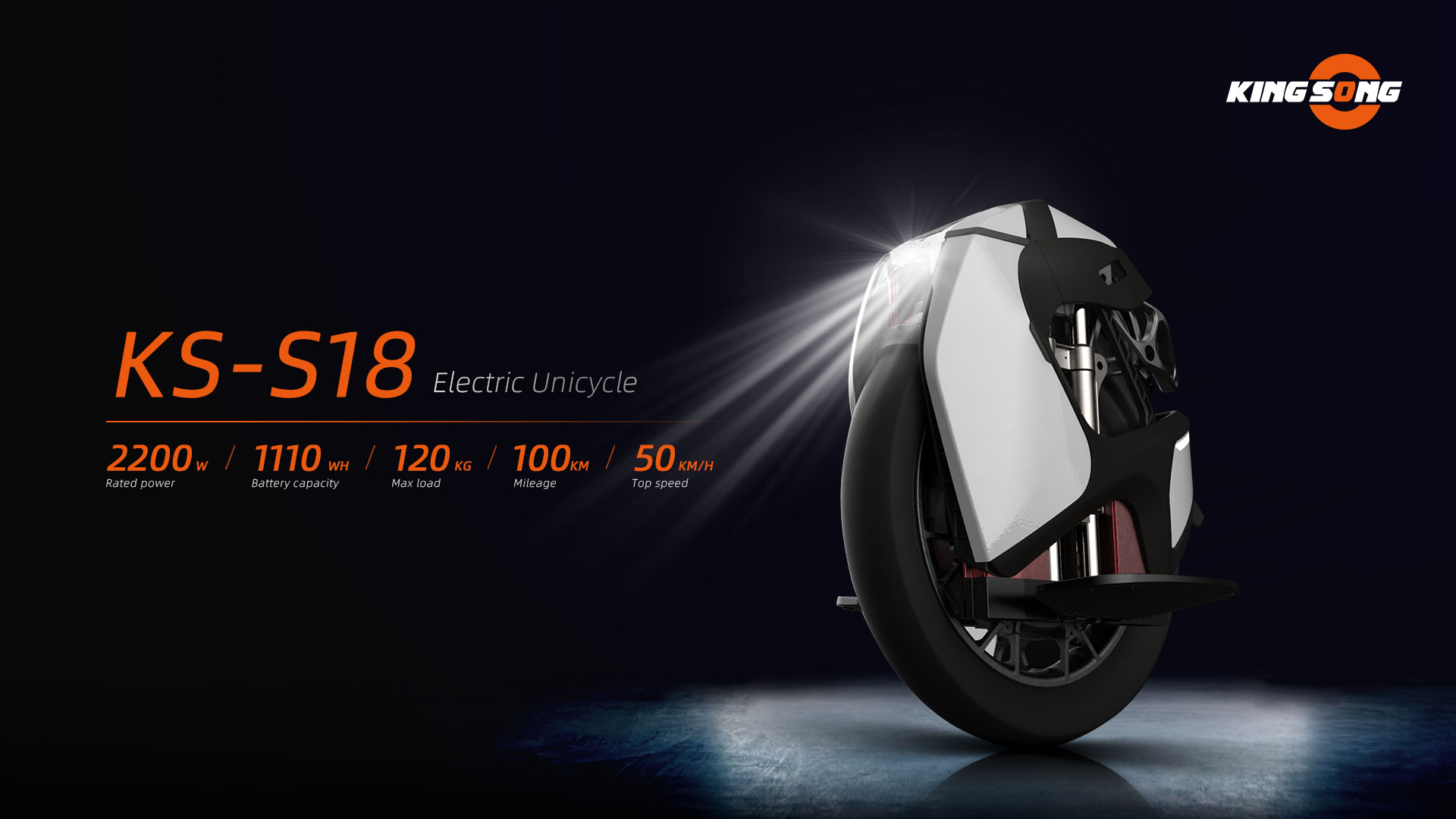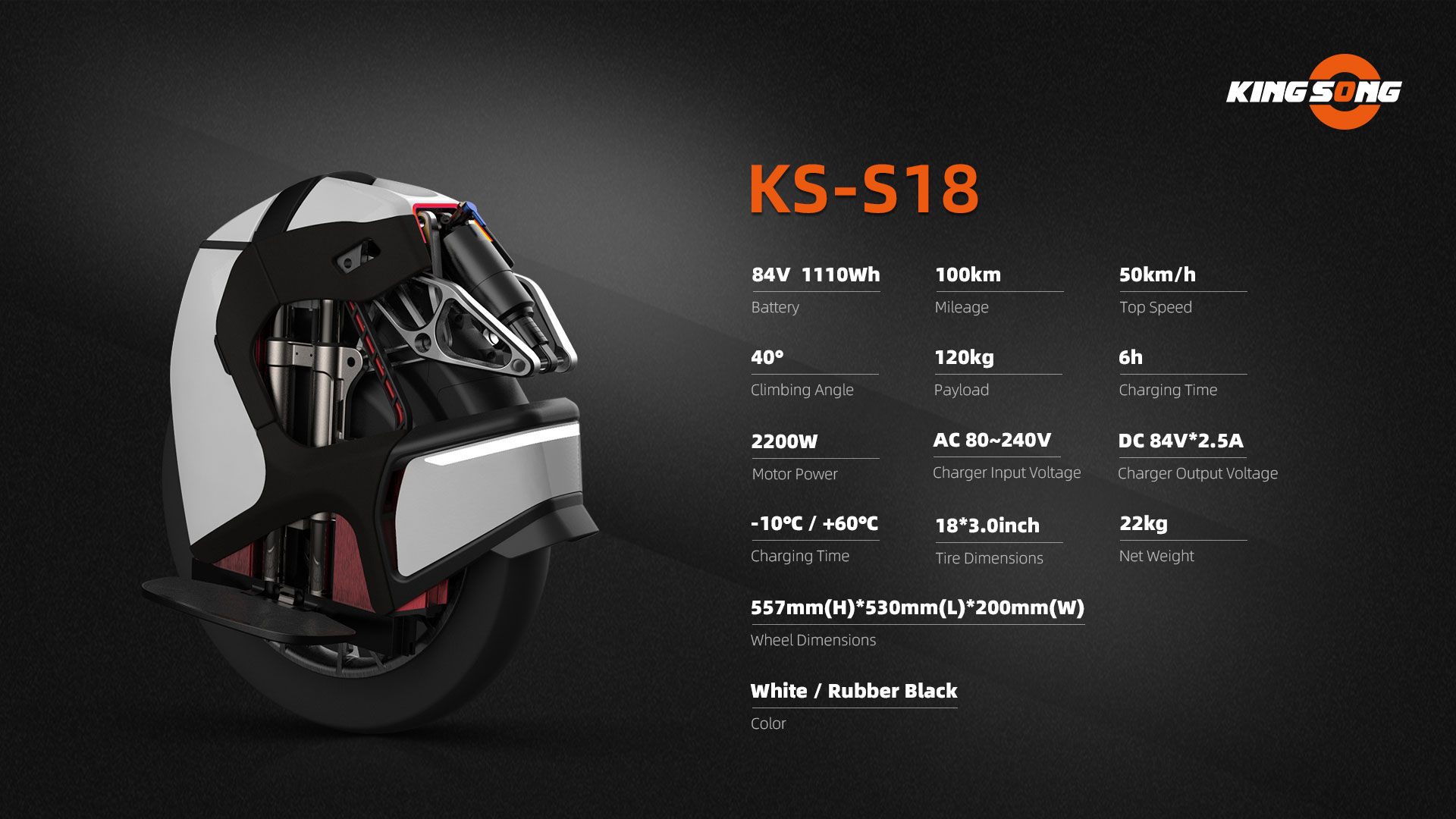 Specification
Material: ABS+PC
Top Speed: ~50km/h (~31 mph) Full speed unlocked after 10km.*
Mileage: Around 100 kms (44 - 62 miles)*
Maximum Incline:
Around 40°
Battery Capacity: 84V / 1110Wh 21700 Battery Cells**
Suspension: Adjustable X Shaped 200-57 Air Suspension
(Using a variable lever the wheel has dampening travel distance of 100 mm which is transferred to the rear spring
suspension with a travel distance of 57 mm).
Operating Temperature
-10
°
/+60
°
Max Load: 120kg (265lbs)
Charger Voltage: Input AC 80~240V,output DC 84V 2.5A
Charging Time: 1110Wh about 6h with standard 2.5 A Charger
Rated Power:
2200w Max Power: 5000w maximum torque of 140N.
Dimension: 557mm(H) x 530mm(L) X 200mm(W)
Pedal Altitude: (from ground) 210 -110 mm
Tire Size: 18 x 3.0 inch
Weight: ~ 48.5 lbs (22kgs)
Available Color: Black / Black & White
EUC Port: Charging port; Switch port; Light sensor port; USB discharge port
Lights: Rear light housing displays battery level, braking and turning signals all in one unit
Standard Accessories: 1x Charger, 1x Manual, 1x Pump, 1x Warranty card, 1x QC certificate
Protective Features:
Lift Sensor: Lift sensor accurately senses and determines when wheel is lifted off the ground to stop tire rotation.
Roll Protection: 45° left and right side. ( Motor stalls when over 45° ) Place the machine vertically on the ground will restart automatically, no need to restart manually
Speed Limit Protection: Beep alarm or voice alarm when exceed limit speed
Low Battery Protection: Low battery protection activated on 30% battery, speed will decreases linearly; when the battery is lower than 5%, voice alarm for charge, when battery at 0%, the front part of the pedal will rise to decelerate until full stop
Higher Temperature Protection: When the motherboard reaches 80
°C
it will result tilt back. When the motor reaches 120
°C
it will result in tilt back.
Alarm Feature:
Switch On/Off: Short press power key: turn on Long press: hear a click then turn off
Battery Indicate: Led shows battery level when EUC power on at rest
Hardware Feature:
Bluetooth: Bluetooth 4.0. Allowing strong stable data transmission
USB Output: Quick charge 3.0
Front Light: 2*5w light high beam with 2*4w short beam. Double the strength of the 16x, providing excellent illumination at night
Temperature System: Temperature of the motherboard is continously closely monitorered to ensure rider safety
Handle: Aluminum constructed handle designed for ergonomic pushing of the wheel or lifting of the wheel
Main board: The motherboard is designed with a 4 layer structure, allowing for better stability performance. 12 large individual TO-247 imported MOS to sufficiently support the 2200W motor. MOS is attached to the aluminate body frame of the wheel for better heat dissipation
*(Factory alarm settings: Level 1- 18 km sound alarm Level 2- 19 km sound alarm Level 3- Sound alarm with tilt back)
Actual Maximum Speed, Range, and Hill Climbing Capability (Gradeability) may vary significantly due to external factors such as rider weight, terrain, temperature, riding style, wind direction, tire pressure, slope etc.
**(Smart BMS with balance and protect overshoot/ over discharge/ over current/ short circuit/ overheating function, support monitoring the battery conditions via KingSong APP")
View All
Close
Warranty Information
Parts: 1 Year Limited Warranty (6 Months on battery and some parts) | Labour: 1 Year Limited Warranty | Warranty is only against manufacturing defects related to functionality of the product | Warranty Limitations / Exclusion: Damage to the product from misuse and/or neglect, accidental damage, water/liquid damage, salt damage or from not adhering to the instructions in the Owner's Manual. Damage caused by exceeding maximum weight, attempting tricks or running into obstacles like curbs or walls, cut outs, riding over safe/recommended speed, using after market chargers or using fast chargers over the maximum limit, water or liquid damage or submerges into the water. Improper or invalid documentation, including but not limited to lack of a warranty sheet, original invoice or discrepancies on the invoice.
View All
Close
1 Review
Pretty decent, good battery, nice design, suspension is very satisfying.
View All
Close