Description
Dualtron 3 III - Dual Wheel Drive Electric Scooter
The Dualtron 3 electric scooter is the third generation of Dualtron Electric Scooters. It is an excellent compromise with its big brother, the Thunder. Featuring ABS brakes, folding handlebars, and adjustable suspension, this scooter represents the highest technology in any electric scooter available today.
DUALTRON III ADJUSTABLE SUSPENSION
Dualtron III Electric Scooter features a 3-step stable suspension system to adjust the riding height of the scooter according to riding conditions and rider weight. Additionally, there are 5 replaceable cartridges (additional cartridges are optional) of different rubber elasticity to adjust how plush you want the ride.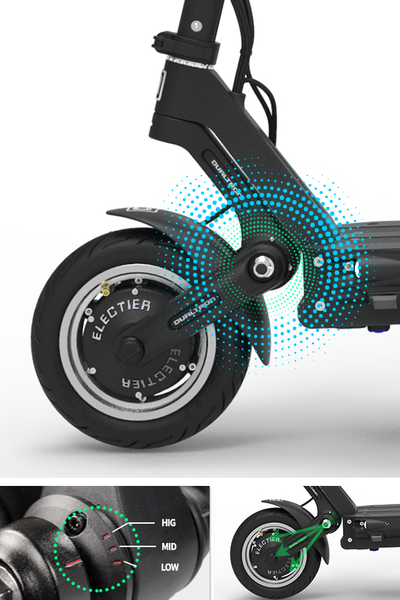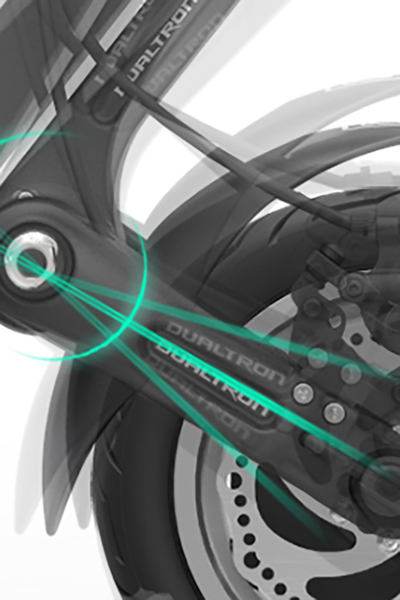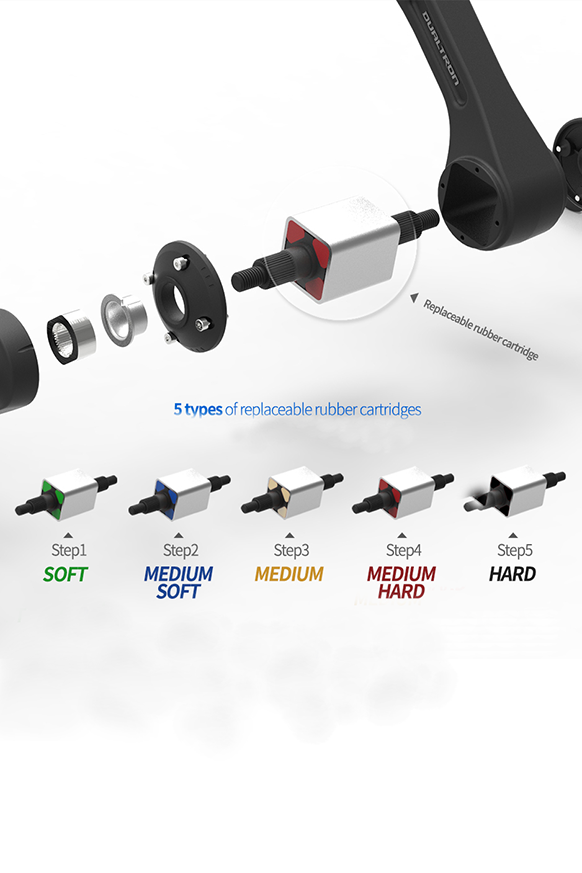 EASY TIRE CHANGE
The modular wheel design of this
Dualtron III dual-wheel electric scooter
allows for easy maintenance and tire changes. Wide tubeless tires allow for easy tire fixes and provide superior ride comfort and traction.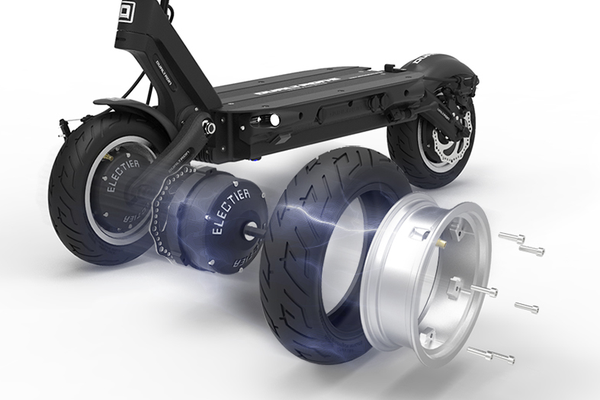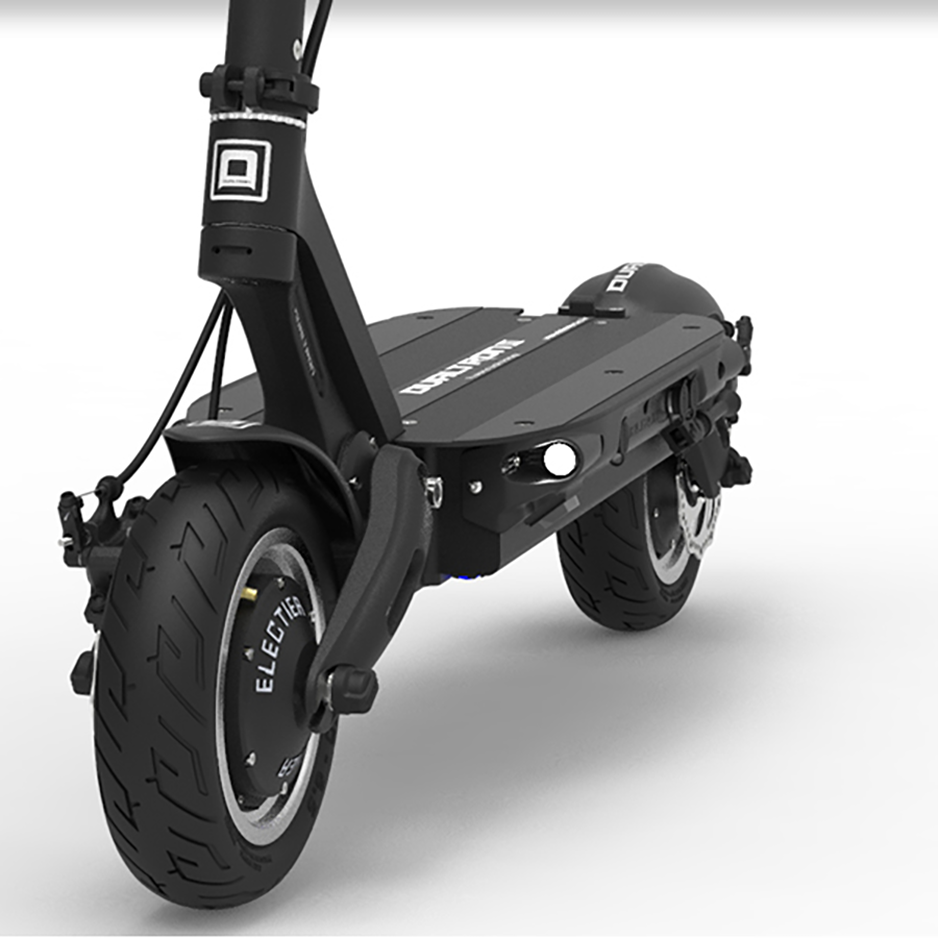 Mechanical hydraulic brakes which are standard with ABS eliminate tire locks and improve braking performance.
EY3 LCD DISPLAY
The EY3 LCD and throttle assembly is your dashboard for everything you want to know about your electric scooter. It even includes cruise control. Couple that with an optional fingerprint lock so only you can unlock your ride.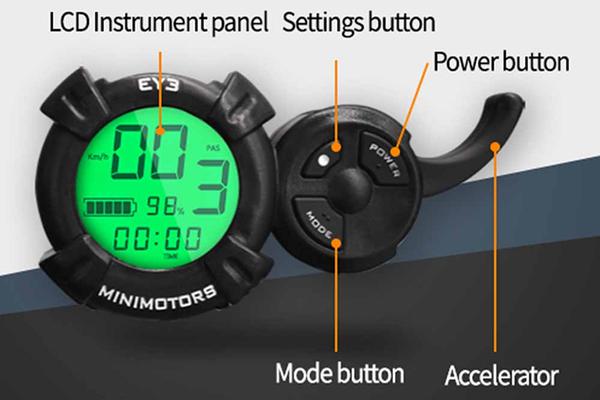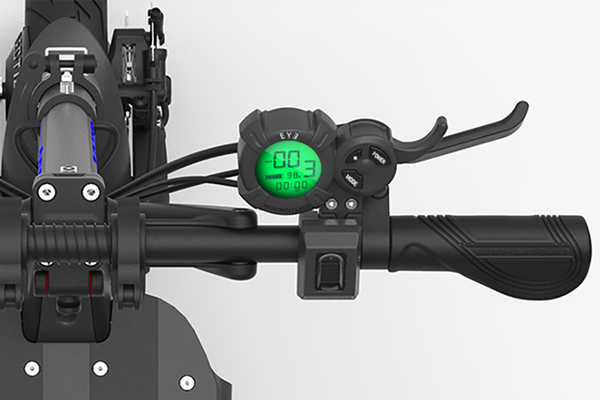 Feeling colorful? You can change the color of the LED lights on the handlebar and base to any color you can imagine, while the bottom of the Dualtron III has blue mood lighting.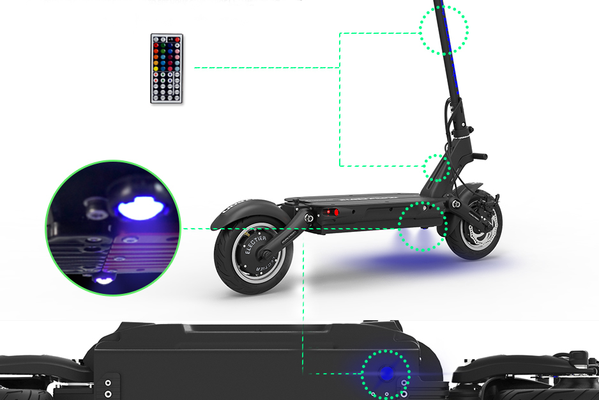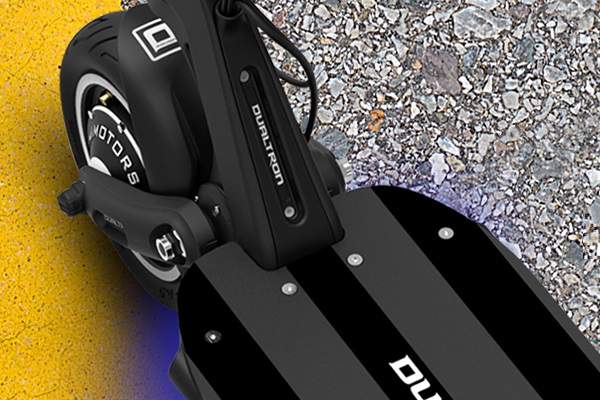 Specification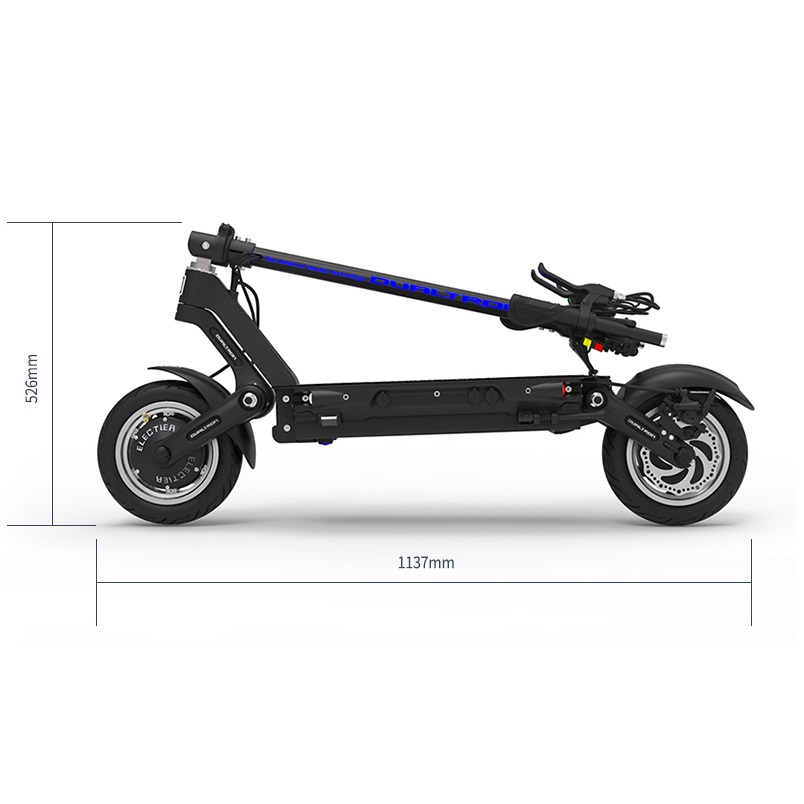 Motor: MAX 3,600 watt BLDC dual hub motor, Nominal 800W x 2
Battery: 60 volt - 28 Ah - 1,658Wh - LG 3500 cells (Lithium Ion)
Charge time: ~16 hrs with standard 1.75A charger, ~8 hours with 2 standard 1.75A chargers, ~4.3 hours with the quick 6.5A charger, ~3.4 hrs when combined 1 quick + 1 Standard Charger
Max mileage: ~75 miles (120 Kms) *mileage may vary depending on rider weight and road conditions
Max Speed: ~40 mph (65 Km/h) *limited in the USA / Canada to 15 mph (24Km/h) via speed limiting wire to comply with DOT regulations and insurance requirements. Tampering with the speed limiting wire is discouraged and may be unlawful.
Climbing Grade: 47% or 25 degrees depending on rider weight and state of charge
Braking System: Front and Rear hydraulic actuated disk brakes with ABS standard (140mm)
Tires: 10" x 3" tubeless tire (Proper air pressure 45~50psi)
Max Load: 265 lbs (120 kgs)
Scooter Weight: ~80 lbs (36 kgs)
Unfolding size: 1137 x 609 x 1200mm
Length x Width x Height
Folding size: 1137 x 279 x 526mm Length x Width x Height
Instrument Panel: EY3 Throttle (Bettery level, TRIP, ODO, drive Time, Speed display and mode change.)
Cruise / Electric brake / Auto save function (3minutes)
Suspension: 15-step adjustable new rubber suspension, 3 step variable suspension system, + 5 kinds of rubber cartridge replaceable design. Rubber cartridge normal is applied basically (Soft, Medium soft, Hard, Medium hard cartridge is optional/Patent pending)
LED Lighting: Front LEDs, Rear Brake LEDs and ambient LEDs.
Product Material: Magnesium Motors, Carbon Handlebars, Frame is aviation grade 6082-T6 aluminum alloy, the shaft is SCM440 steel, and plastic covers
Download
Operations Manual Dualtron 3 III

View All
Close
Warranty Information
Parts: 1 Year Limited Warranty | Labour: 1 Year Limited Warranty | Warranty is only against manufacturing defects related to functionality of the product | Warranty Limitations / Exclusion: Damage to the product from misuse and/or neglect, accidental damage, water/liquid damage, salt damage or from not adhering to the instructions in the Owner's Manual. Damage caused by exceeding maximum weight, attempting tricks or running into obstacles like curbs or walls, cut outs, riding over safe/recommended speed, using after market chargers or using fast chargers over the maximum limit, water or liquid damage or submerges into the water. Improper or invalid documentation, including but not limited to lack of a warranty sheet, original invoice or discrepancies on the invoice.
View All
Close
2 Reviews
I really like the scooter, It Works absolutely perfect except for I have it in eco mode and it doesn't recognize it anymore all the time, like I can go top speed and eco mode, and I only bought it in May 2021 so it's just over a year old and it's having that problem already

I wanna say thank you to Jon the best customer service that I never had before his very patient with me and he answered to all my questions
View All
Close