Description
Dualtron X2 Up - Monster Electric Scooter with
Enormous Battery
Upgrade for the Ultra-Performance, and that's exactly what the Dualtron X2 Up electric scooter offers! An amped-up sequel to the Dualtron X2, this electric scooter is among the best of the best. The new
Dualtron x2 Dual Wheel electric scooter
is an elite-performance e-scooter, equipped with an enormous 72V 45AH battery pack composed of high-quality LG cells.
Extreme Motor
The extreme 8,300-watt max BLDH hub motors deliver up to 110 km top speed. Dualtron X2 Canada has 13-inch ultra-wide tubeless tires. The quality of its tires allows optimal absorption of the road for greater safety. It allows the climbing grade up to 70%. The Dualtron X2 Upgrade is one of the biggest and most performant e-scooter to date. This Dualtron scooter's best usage is for the power users that wish to acquire a brute force, high quality, and highly comfortable piece of machinery for mountain exploration, off-road experiences, and forest trips.
Dual Hydraulic Suspension
An extreme scooter needs extreme suspension! Minimotors deliver with huge dual hydraulic suspensions. Hydraulic brakes with 160mm discs in the front and rear coupled with adjustable hydraulic suspension, you'll have incredible control and customized cushion against rough terrain. This beast strolls over the largest bumps or potholes like their nothing.
Comfort has not been compromised at all with this mega machine.
LED Lights
The Dualtron X2 Up electric scooter has lots of lights! It has the standard and signature Dualtron lights on the stem and lights on the deck. There are additional lights under the deck and on the rims.
The Dualtron X2 Upgrade also has indicators and a Dual LED front lamp.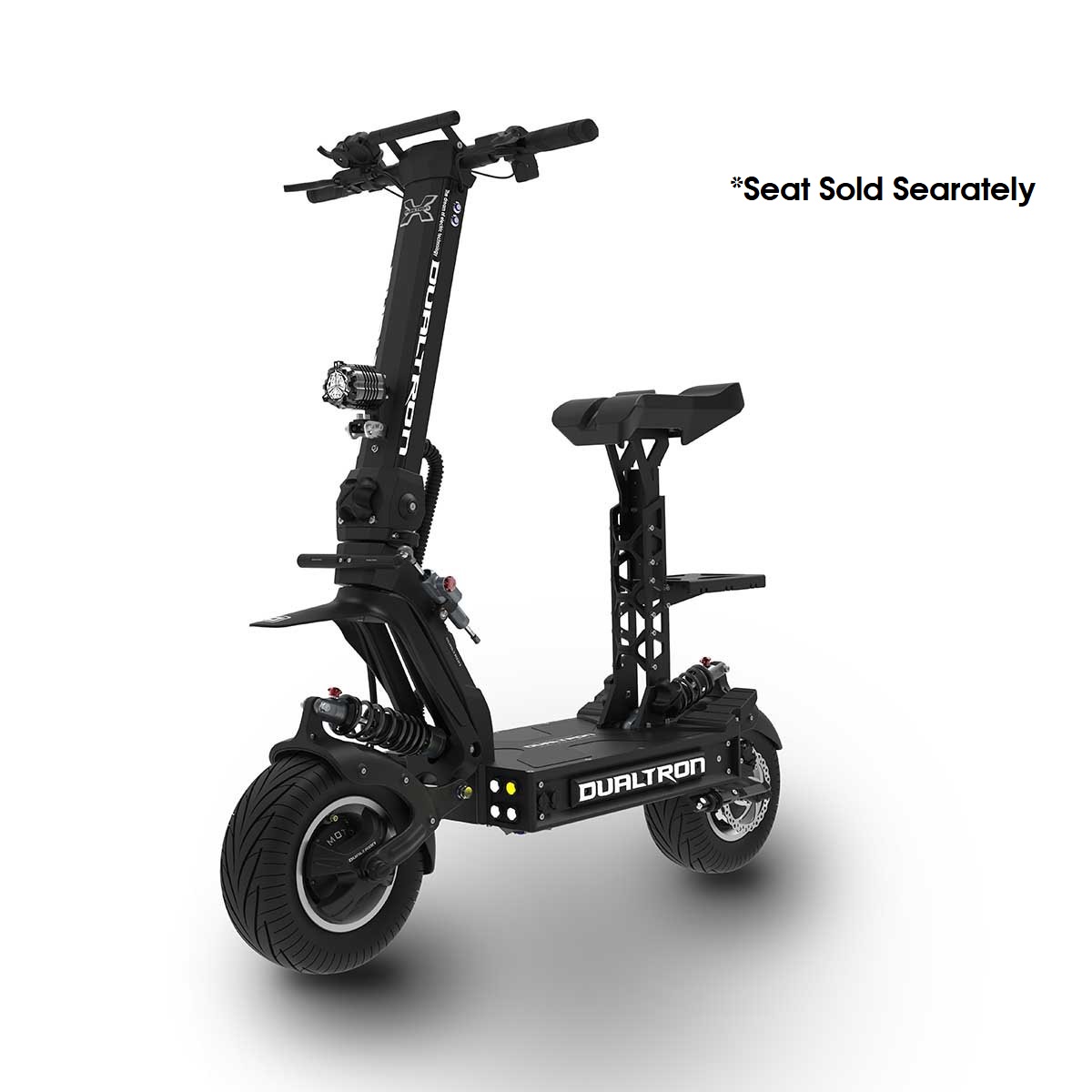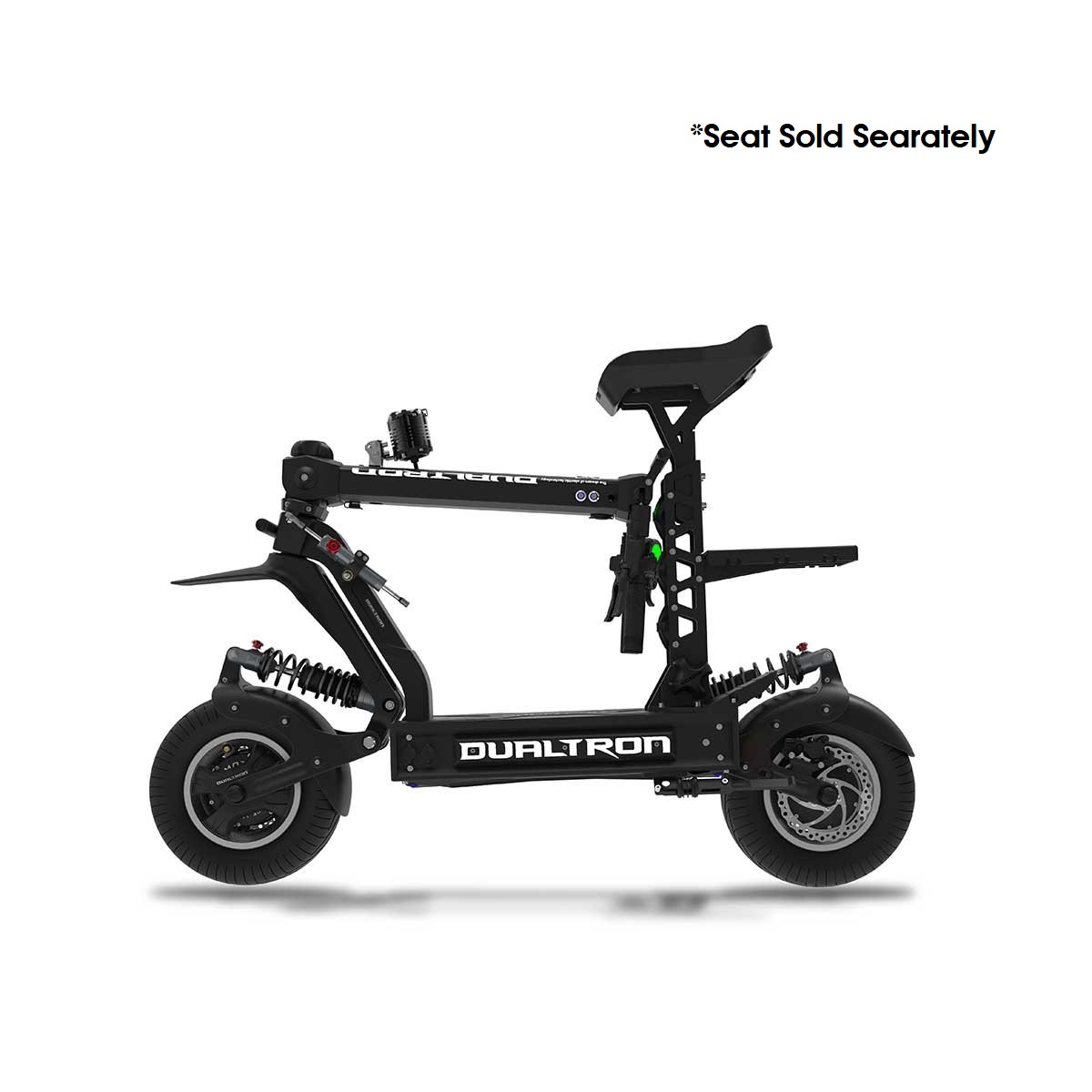 Specification
Motor: MAX 8,300 watt BLDC Dual Hub Motor
Battery: 72V - 45Ah (3240WH)
Charge time:
MAIN: 9H / SUB: 2.5H
Max mileage: ~190 km (~118 miles) *mileage may vary depending on rider weight and road conditions
Max Speed: ~110 km/h (~68.3 mph)
Climbing Grade: Around 70% or 35 degrees **depending on rider weight and state of charge
Braking System: Fully Hydraulic Brakes + 160mm Rotor
Max Load: 150 kgs (330 lbs)
Scooter Weight: ~66 kg (146 lbs)
Tire:
13 inch x 5" wide Tubeless tire
Unfolding size: 1305(L) x 632(W) x 1240(H)mm
Folding size: 1305(L) x 350(W) x 780(H)mm
LED Light Function:
Front High-Power LED Light + Steering Tube & Wheel Cover & side deck RGB Lights, Bottom Mood LED & Taillight, Warning Lights and Brake Lights are built-in
Instrument panel: Eye Throttle is applied as the default option (Bettery level, TRIP, ODO, drive time, Speed display and mode change)
Suspension: Hydraulic Brake Tunning 19 steps
Product Material: Frame and Handle are aviation aluminum forging alloy, the shaft is SCM440 steel, and plastic covers
View All
Close
Warranty Information
Parts: 1 Year Limited Warranty | Labour: 1 Year Limited Warranty | Warranty is only against manufacturing defects related to functionality of the product | Warranty Limitations / Exclusion: Damage to the product from misuse and/or neglect, accidental damage, water/liquid damage, salt damage or from not adhering to the instructions in the Owner's Manual. Damage caused by exceeding maximum weight, attempting tricks or running into obstacles like curbs or walls, cut outs, riding over safe/recommended speed, using after market chargers or using fast chargers over the maximum limit, water or liquid damage or submerges into the water. Improper or invalid documentation, including but not limited to lack of a warranty sheet, original invoice or discrepancies on the invoice.
View All
Close