Description
Smartkick X8 Plus Gen 2 (G2)- Get ready to explore the unexplored!
The SmartKick X8 Plus G2
electric kick scooter
has a significant upgrade in performance from the X8 Plus while offering the same 10" inflatable wheels, triple brakes, and an easy-folding design. The SmartKick X8 plus e kick scooter is ideal for rides on all-terrain and travels of all kinds.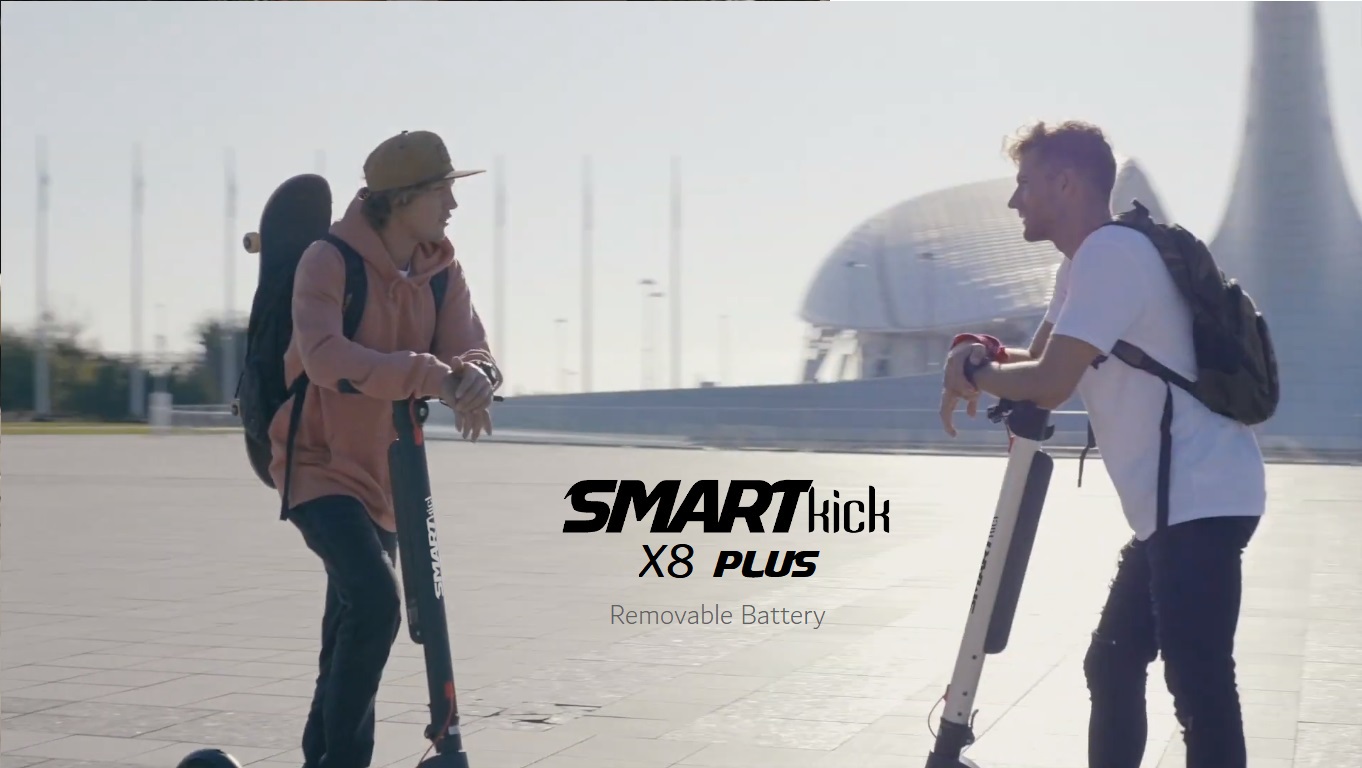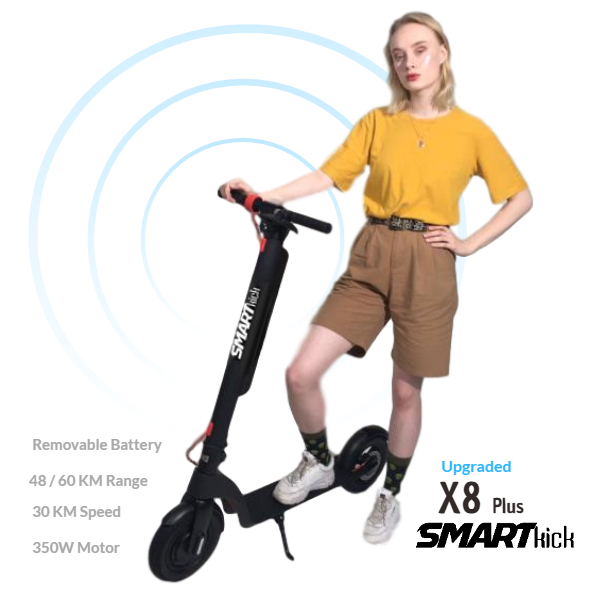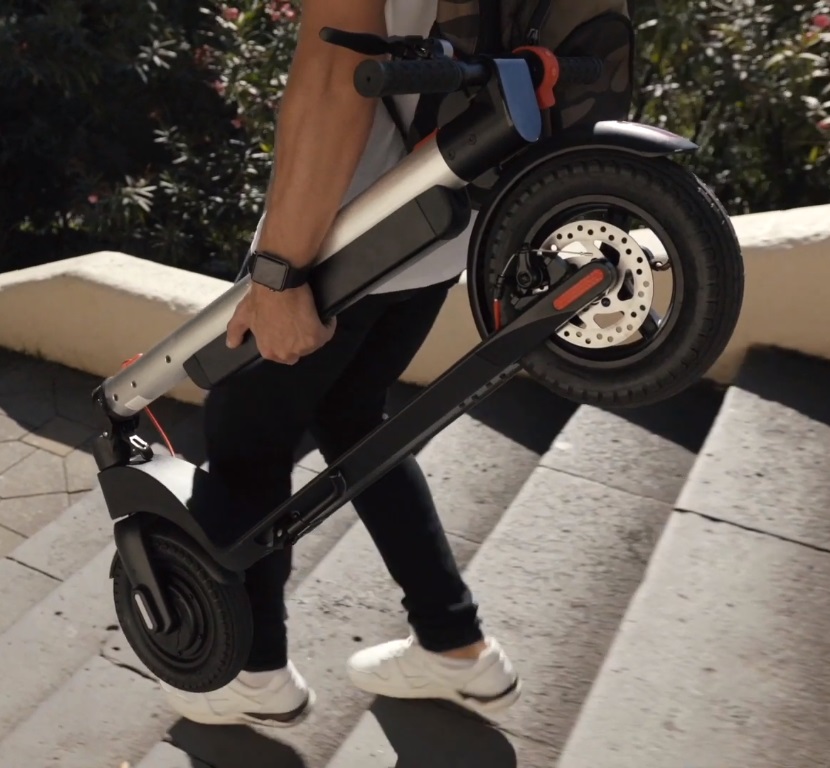 X8 Plus Speed:
Three riding speed modes to adapt to any riding situation. The
SmartKick X8 electric scooter
features a max speed of 30 km* (18.6 mi).
X8 Plus Range:
With a range of up to 45 - 48 km* (30 mi) and removable battery option you can swap your battery and ride as long as you want. 60 km* (37 mi) upgrade available.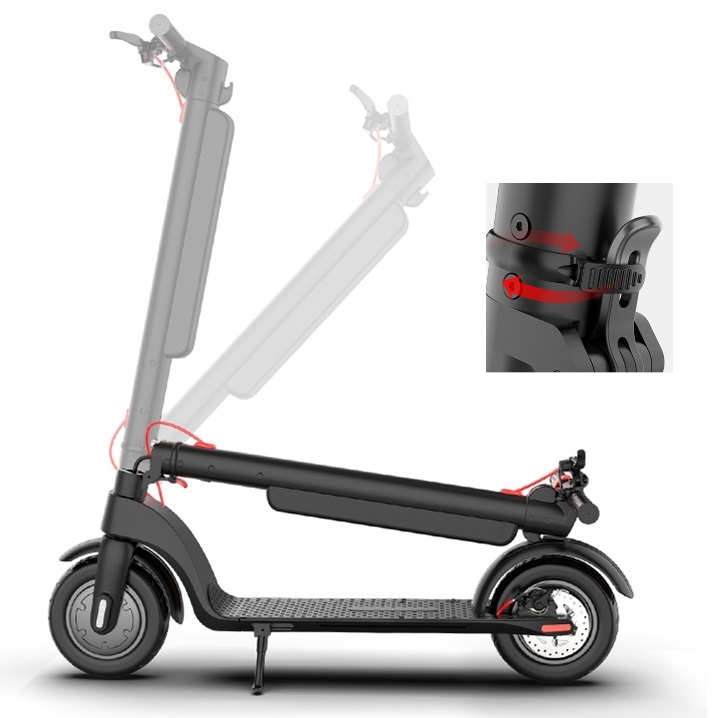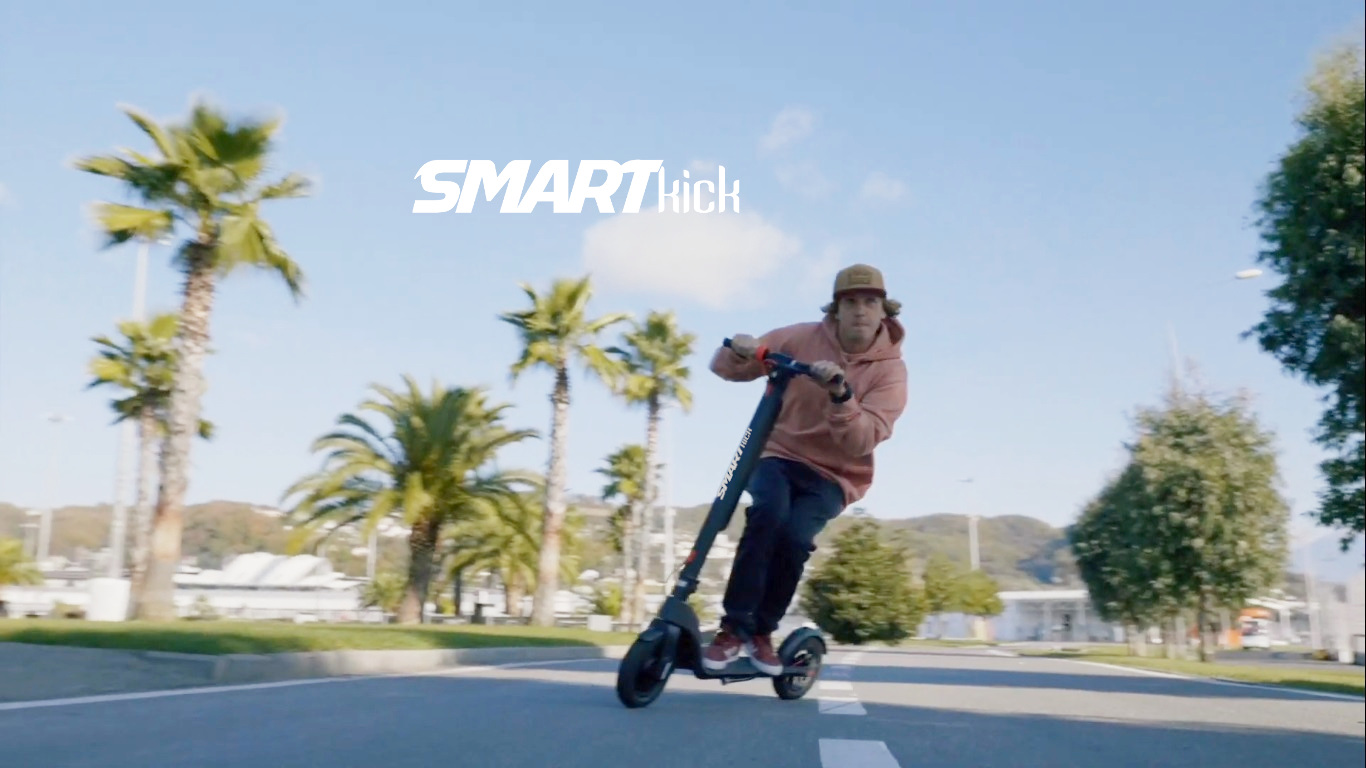 X8 Plus Portability:
The one-step folding system allows you to always be on the go and fold your device in no time. It only weighs 15 kgs (33 lbs) and its light weight design makes it easy to carry around with out any extra efforts.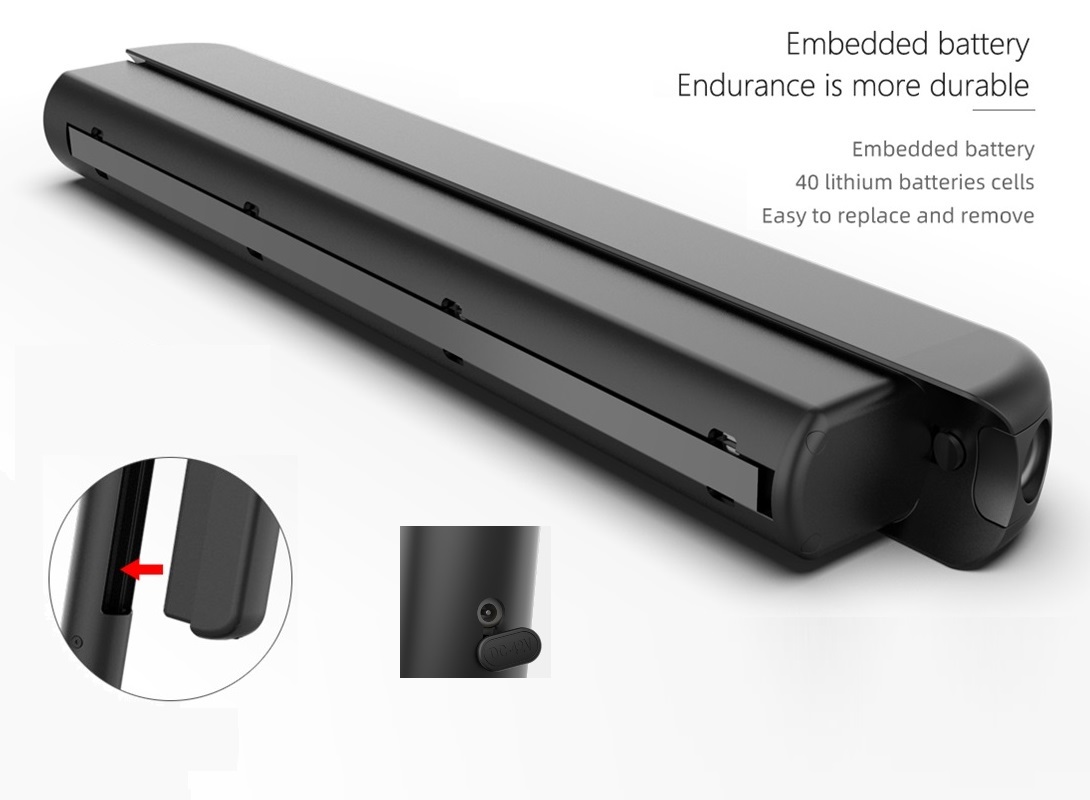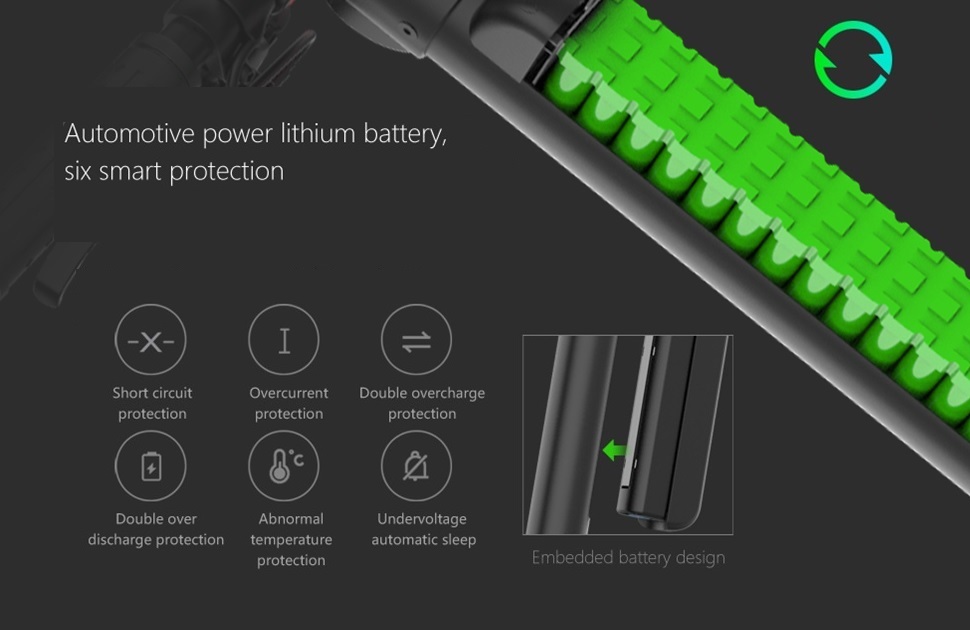 Quick Detachable Battery:
Unique battery design that can be removed easily on the go with a quick release. You can carry an extended battery for extended range. You are in full control of your device.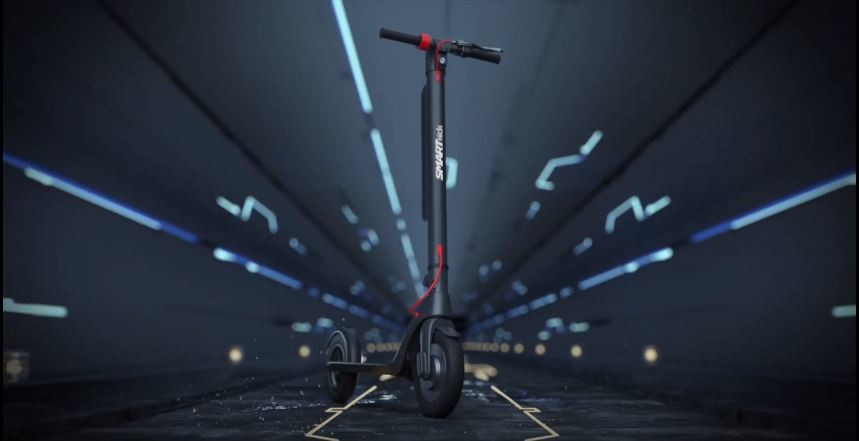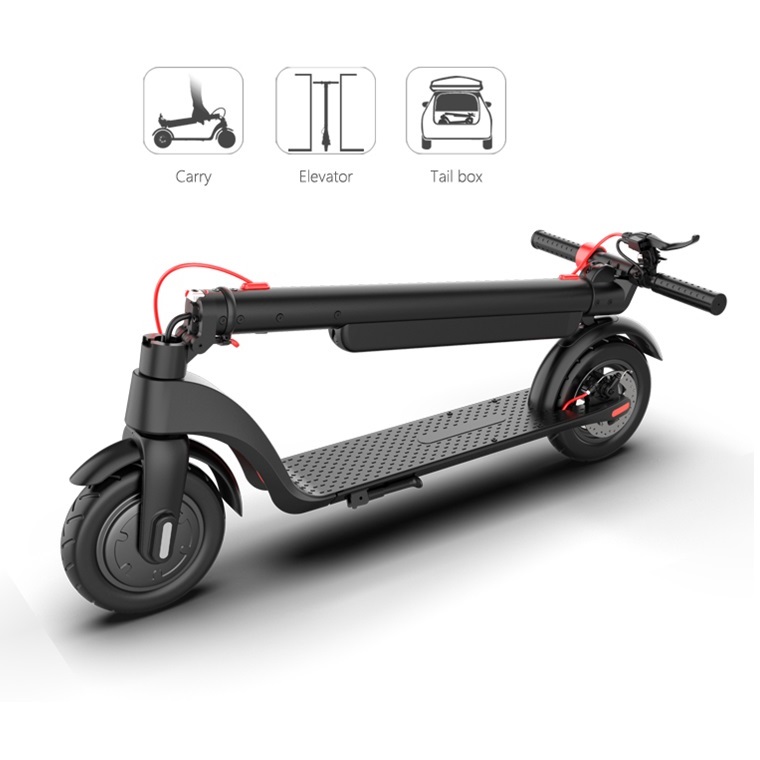 X8 Plus Quality & Design
:
Smartkick X8 scooter
shows quality in design and is built with durability and reliability in mind for your short-distance travel or daily commute.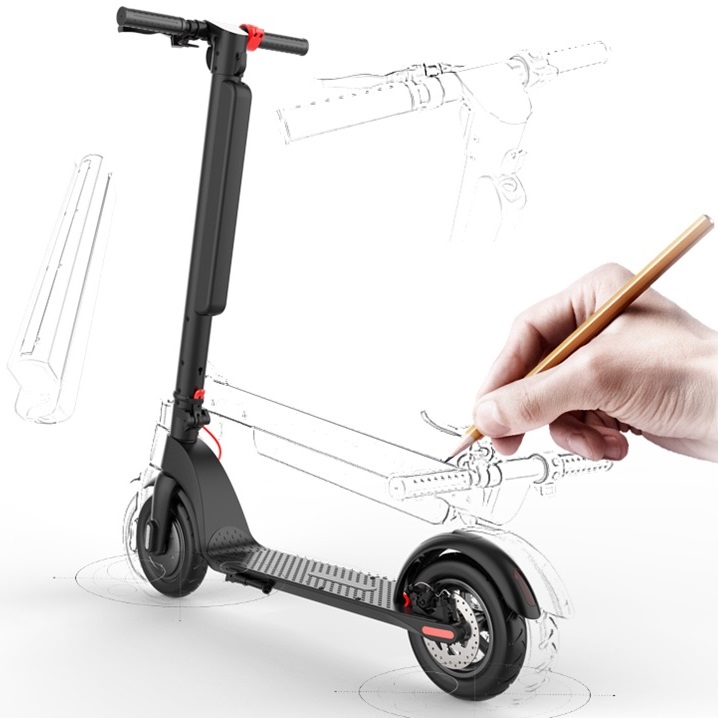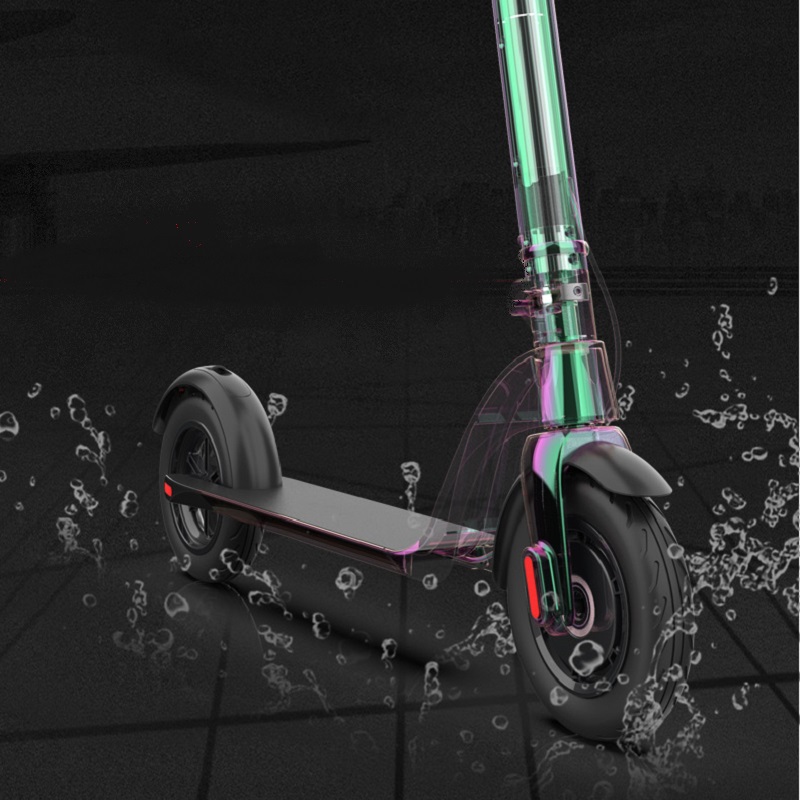 Spacious Footrest/Deck:
Slip-resistant surface for safety and 15cm wider platform for comfortable riding.
Ground Clearance:
With a 12 cm GC off-road design, excellent versatility, allows it to adjust itself for different road conditions
X8 Plus Water Resistance: X8 Plus is IP54 water resistance on its core parts, and can withstand minor water splashes on the go. This ensures you are able to ride in light rain or at least able to lead to a safe location if weather gets unfavorable.
*Extreme riding in wet and heavy rain or riding in pooling water is not recommended and may damage the device over a period of time.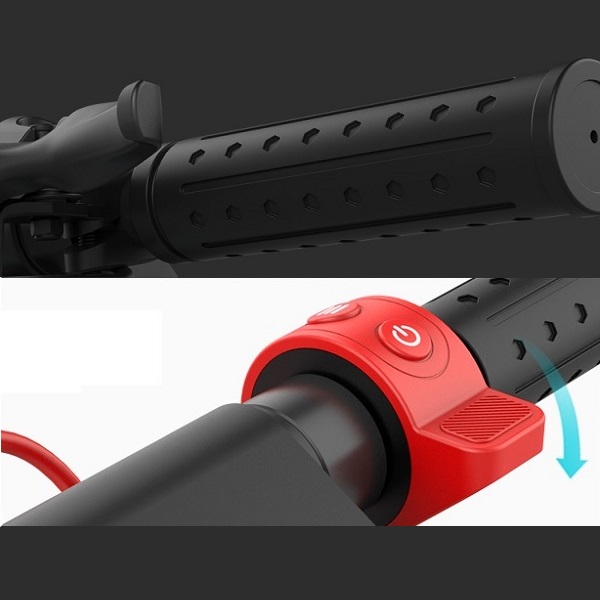 X8 Plus Safety:
In some states/provinces, a bell is mandatory and is a way of letting other road and path users know that you're there. Smartkick X8 Plus features an integrated bell that makes this job easy your ride even safer.
Triple Braking System:
Rear wheel
mechanical disc brake
plus front wheel
regenerative electronic brake
, simultaneous dual brake provides the greatest stability and steer-ability. Rear
fender brake
is an additional safety feature that can assist in braking by just pushing the fender down.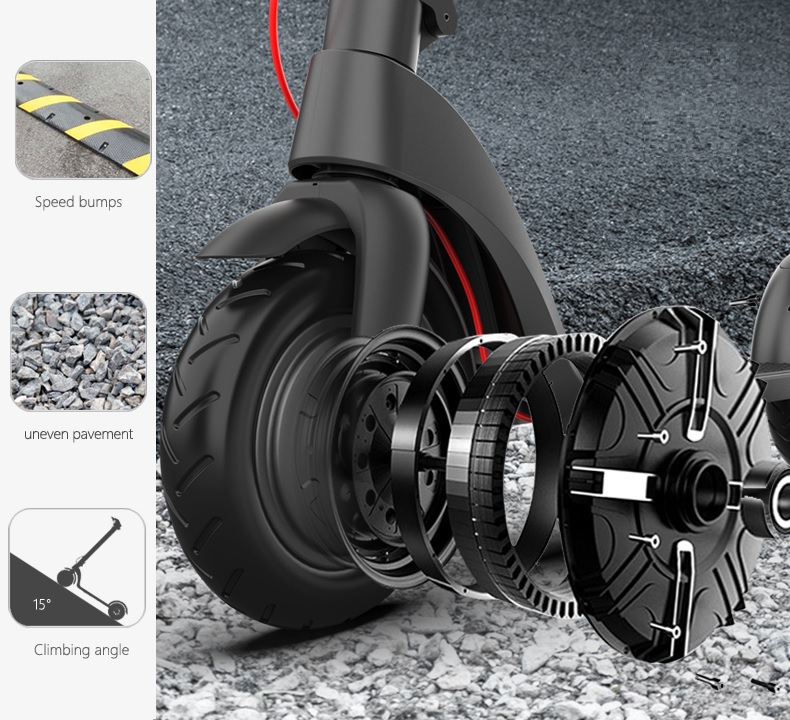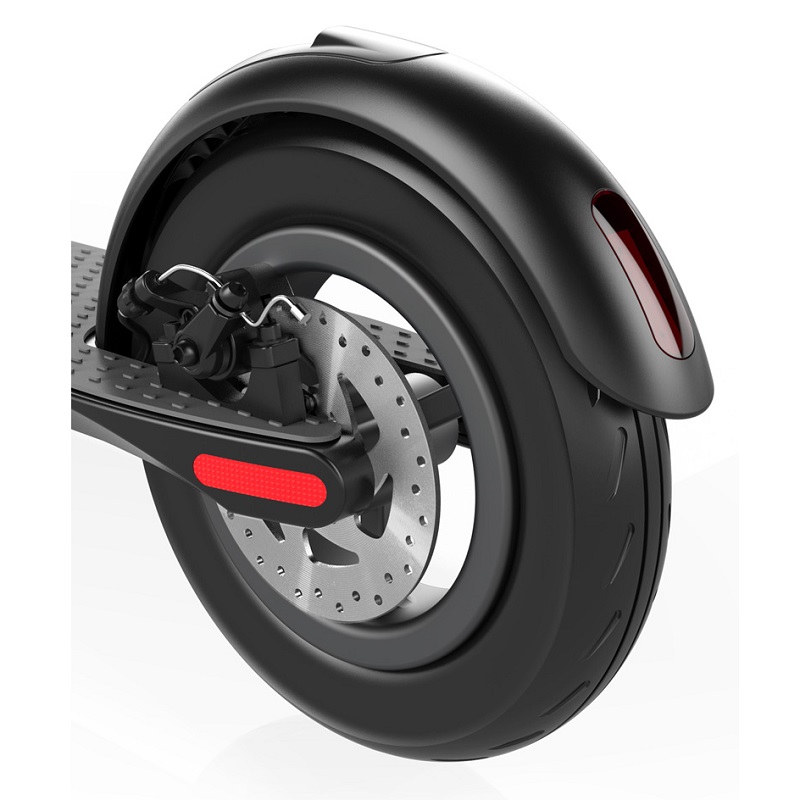 Powerful Dive Motor:
The SmartKick X8 Plus has 350W motor and is a front wheel drive system motor. It can go uphill easily with 10° slope and get through almost all terrain.*
10" Inflatable Tires:
Get through bumpy terrain easier with the 10-inch front and rear tube tires. Off-road is not a problem anymore.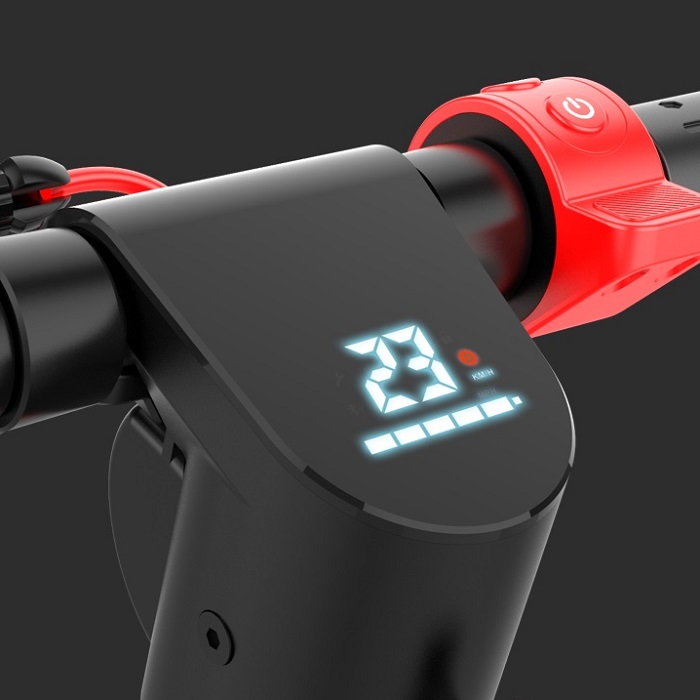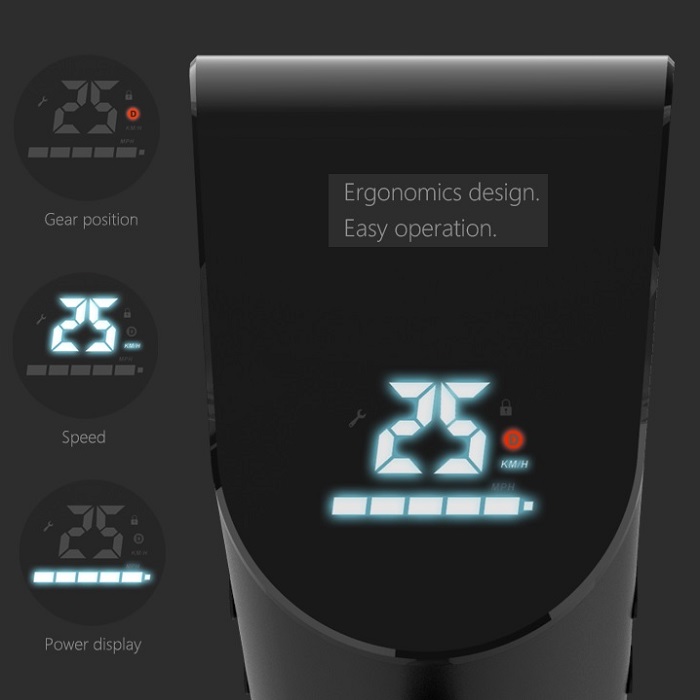 LCD Dashboard:
LCD display dynamically shows speed, battery capacity & settings.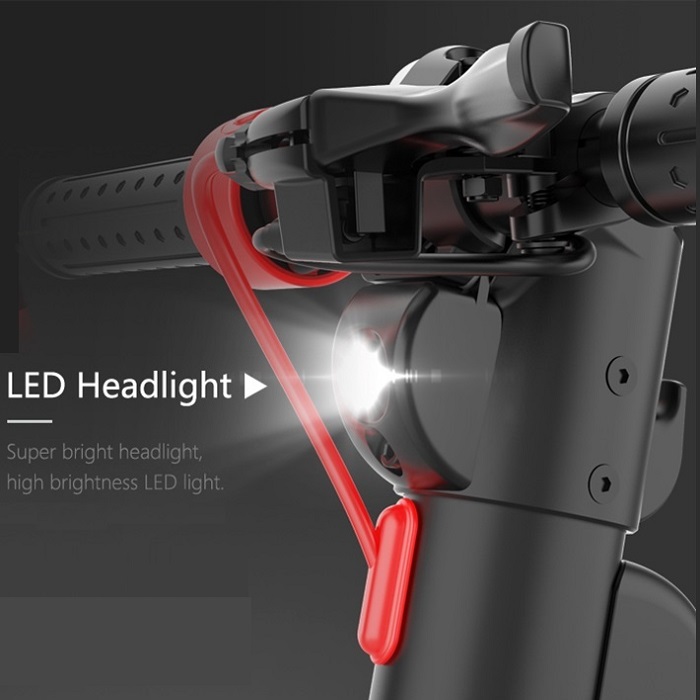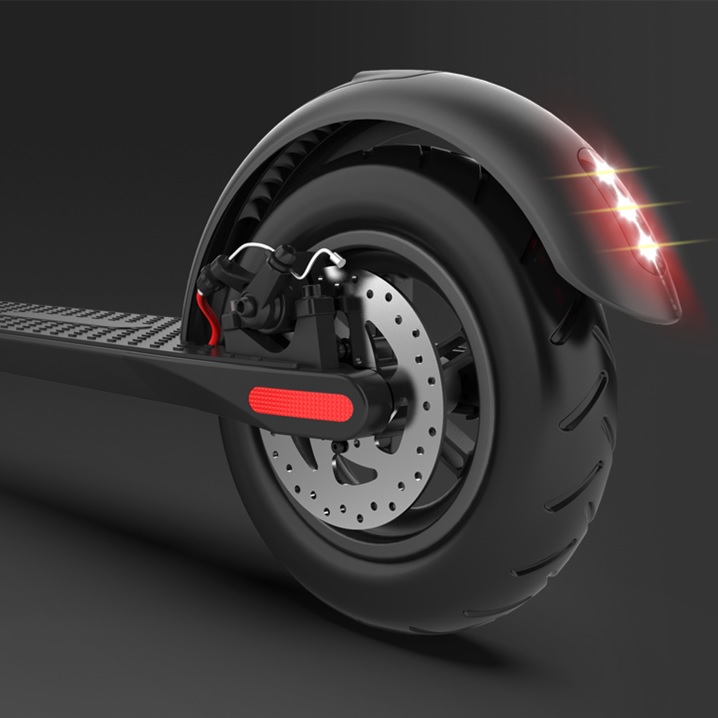 Front LED Head light:
Front LED light enables you to ride at night or dark conditions. It is perfectly aligned to ensure there is enough light and also adds safety to warn people ahead of you or another direction.
LED Tail Light:
Rear brake tail light adds safety on the road for you and the people behind you. It flashes to warn that you are braking.
* Max speed and range may vary by ± 1 km when tested with no load. During actual riding conditions max speed, range, and hill climbing capability (gradeability) may vary significantly due to external factors such as rider weight, terrain, temperature, riding style, wind direction, tire pressure, slope etc.
Specification
Net Weight / Gross Weight: 15 kgs (33 lbs) / 16.5 kgs (36.5 lbs)
Payload: (20-100 kg) 44-220 lbs ± 10%
Recommended Age: 14+ years
Required Height: 3'10"-6'6" (118-200 cm)
Max. Speed*: 30 km/h (18.6 mph) ± 1 km
Max Range*: Approx. 45 km (28 mi) with 360Wh Battery. (Approx. 60 km (37 mi) with 460Wh Battery, sold Seperately)
Gradeability*: Approx. 10°
Battery included : 36 VDC 360Wh / 10Ah (High Quality Li-Ion Cells)
Battery upgrade Available: 36 VDC 460Wh / 12.8Ah (Panasonic High Quality Li-ion Cells)
Motor Nominal Power: 350 W
Tire Size: 10" Inflatable Tire
Duration of Charging: ~ 4- 5 h
Charging Temperature: 32-104ºF (0-40ºC)
Input Voltage: 100-240V ~ 50/60Hz
Output Voltage: 42 VDC 2A
Front Light: LED Front Light
Brake Light: LED Rear Light
Number of Batteries: 1 Quick Removable battery included. Extra battery or Upgraded 460Wh Panasonic Cell Battery is optional.
IP Rating: IP54
Operating Temperature: 14-104ºF (-10-40ºC)
Storage Temperature: -4-122ºF (-20-50ºC)
Unfold Size: L*W*H=105.6*42*116.6 cm
Fold Size: L*W*H=105.6*42*45 cm
* Max speed and sange may vary by ± 1 km when tested with no load. During actual riding conditions max speed, range, and hill climbing capability (gradeability) may vary significantly due to external factors such as rider weight, terrain, temperature, riding style, wind direction, tire pressure, slope etc.
View All
Close
Warranty Information
Parts: 1 Year Limited Warranty | Labour: 1 Year Limited Warranty | Warranty is only against manufacturing defects related to functionality of the product | Warranty Limitations / Exclusion: Damage to the product from misuse and/or neglect, accidental damage, water/liquid damage, salt damage or from not adhering to the instructions in the Owner's Manual. Damage caused by exceeding maximum weight, attempting tricks or running into obstacles like curbs or walls, cut outs, riding over safe/recommended speed, using after market chargers or using fast chargers over the maximum limit, water or liquid damage or submerges into the water. Improper or invalid documentation, including but not limited to lack of a warranty sheet, original invoice or discrepancies on the invoice.
View All
Close
2 Reviews
I have owned two of these scooters and they are great if you want a lightweight, liftable scooter to go up and down stairs. The scooter becomes even more transportable if you take out the battery. For both scooters I was initially able to get 20 km max distance on one charge which reduced quickly to 15 km after 9 months of mild use. The solution to the distance problem is to buy a Ninebot G30 Max. I keep the Smartkick for the city where I have to lift it up and down stairs and I don't tend to go far distances, and I use the Ninebot in the location where more battery life is required.

The X8 is the most selling scooter in the world under different brand. I bought a Renault X8 in a Renault dealer while in Mexico, and this SmartKick at home in Canada. I suggest you upgrade with the 12.8 A battery if your weight is over 150 pounds like me ;) Moreover, spare parts are more easy to find for this very model than any other model. If you are crazy enough to run over 25-30 km/h, forget this model and pay around 2000$ to 5000$...
View All
Close