Description
ZERO 9 600 Electric Scooter
The ZERO 9 scooter Canada is essentially an upgraded version of ZERO predecessors with a higher power, air tires front and rear to provide more ride comfort and double brakes (rear drum brakes and front disc brake).
With a range of up to ~45 km (28 miles) per charge, this escooter is a great choice for riders who need to go the distance but still want something compact yet comfortable. Whether you commute directly from home to work everyday or work as a delivery rider, the ZERO 9 will guarantee you a comfortable ride throughout your long journey.
The double spring suspension system makes the ZERO 9 a comfortable ride on urban terrain. With 3 front LED headlights and rear lights, the ZERO 9 has wonderful visibility in the dark perfect for night time riding. With 9-inch pneumatic wheels, it offers better ride quality and traction than 8-inch wheeled scooters without the bulk of a 10-inch wheeled scooter - an excellent balance. Zero 9 600W powerful motor, this scooter out-performs most other scooters of a similar size. All this at a very compelling price. The ZERO 9 is a good choice for long range commutes or leisure rides.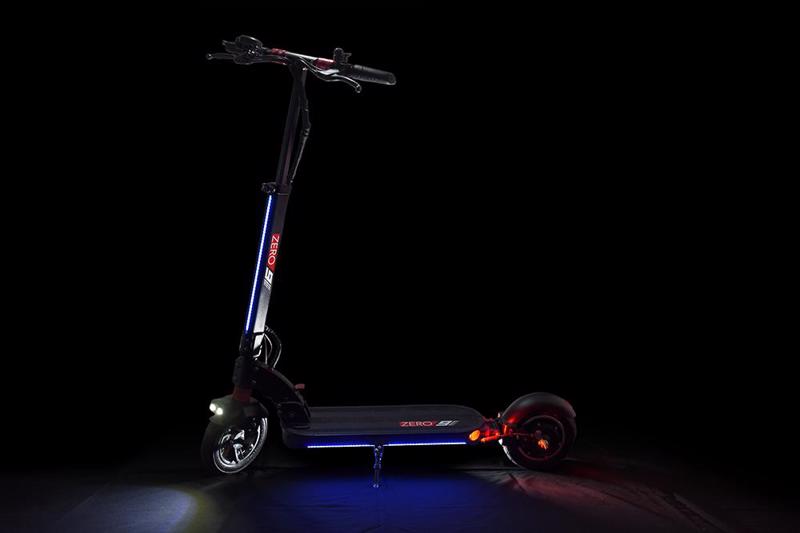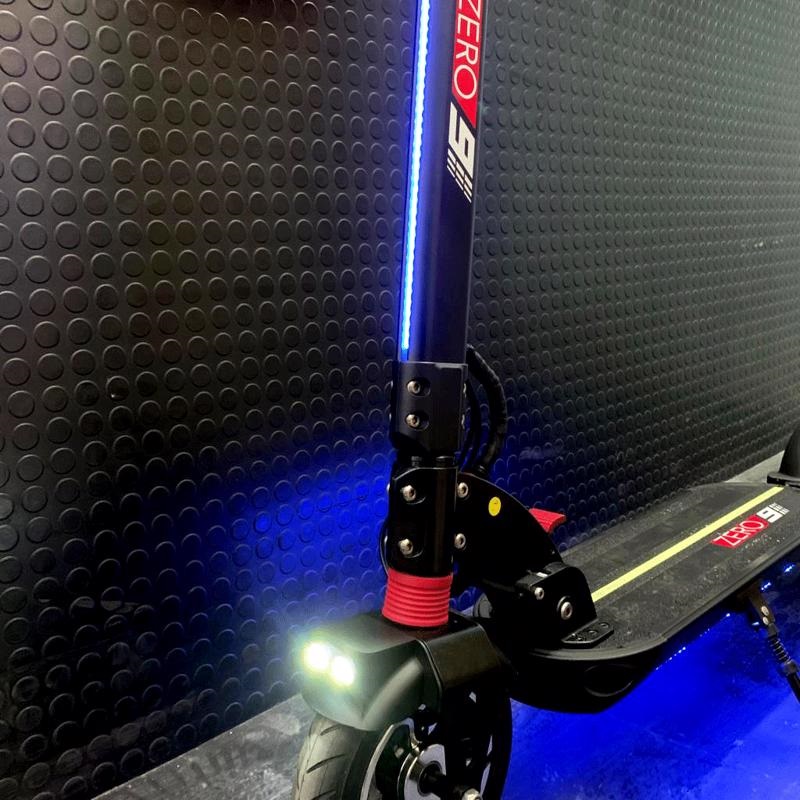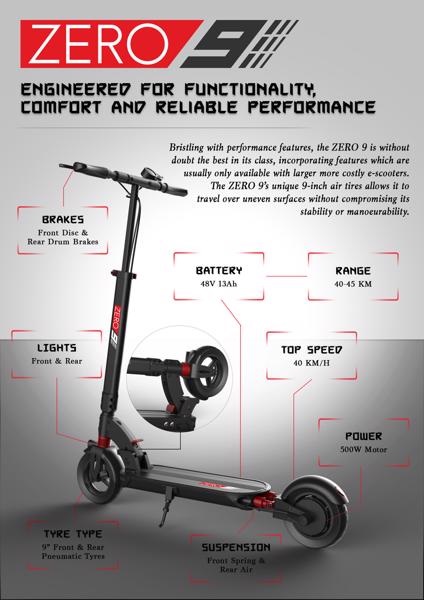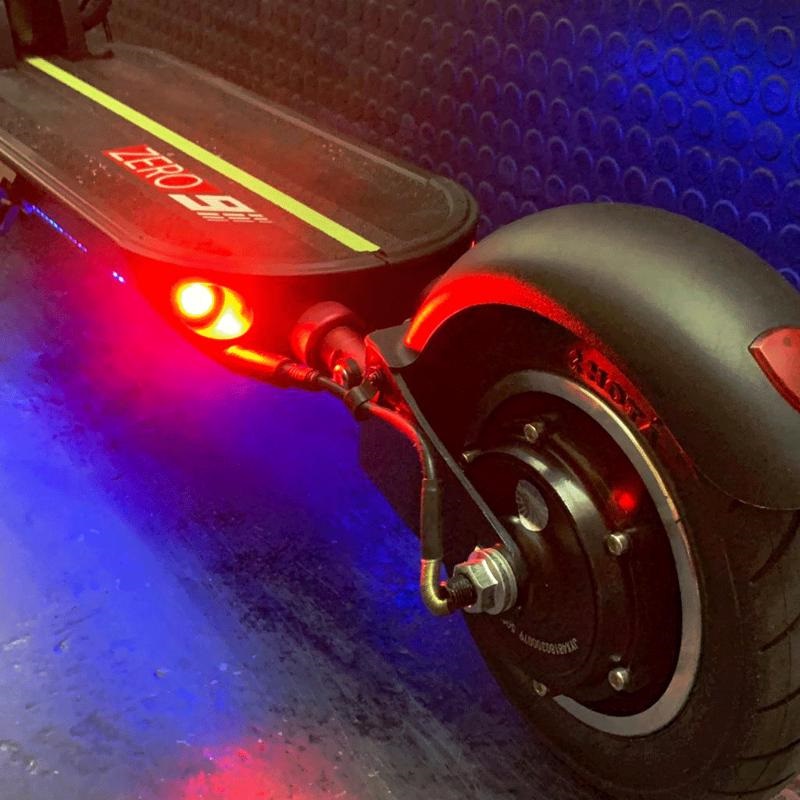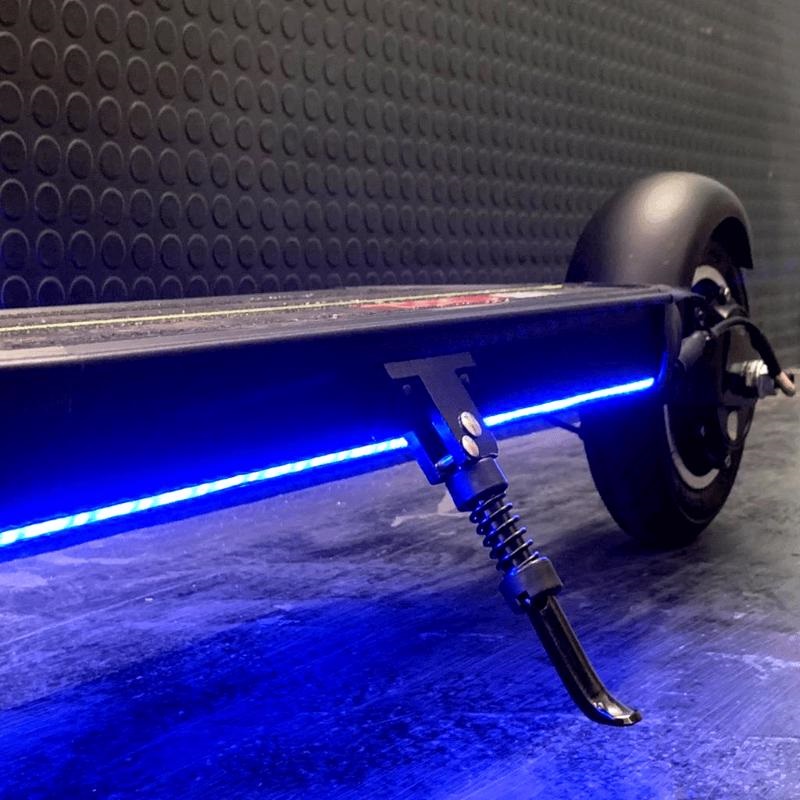 Specification
Battery: 48V 13 Ah (LG Battery Cells)
Wheel: 8.5"inche x 2 (~9")
Tyre type: Front & rear pneumatic
Brakes: Front disc brake (120mm); Rear drum brake
Range: ~45 km (28 miles)
Max Payload
100kg (220 lbs)
Top Speed: 47 km/h (29.2 miles) *
Weight: 18 Kg (39.6 lbs)
Suspension: Front spring, rear air shocks
Lights: 2 Front LED & 2 rear LED in-built & ambient
Controller: 23A / 25A
*(some newer models have 23A Controller to ensure proper function)
Motor Power:
600W Single Rear Wheel drive
Box Dim.
1110 x 260 x 440 mm
Folded Dim.
1000 L x 200 W x 390 mm H
Charge Time: Approximately ~ 4 - 6 hrs
*Zero electric scooters have limited speed switch option to 15mph (24Km/h) to comply with DOT regulations and insurance requirements. Riding at faster speed may be unlawful.
View All
Close
Warranty Information
Parts: 1 Year Limited Warranty (6 Months on battery and some parts) | Labour: 1 Year Limited Warranty | Warranty is only against manufacturing defects related to functionality of the product | Warranty Limitations / Exclusion: Damage to the product from misuse and/or neglect, accidental damage, water/liquid damage, salt damage or from not adhering to the instructions in the Owner's Manual. Damage caused by exceeding maximum weight, attempting tricks or running into obstacles like curbs or walls, cut outs, riding over safe/recommended speed, using after market chargers or using fast chargers over the maximum limit, water or liquid damage or submerges into the water. Improper or invalid documentation, including but not limited to lack of a warranty sheet, original invoice or discrepancies on the invoice.
View All
Close
6 Reviews
ZERO 9 600 Electric Scooter

like it. very nimble & light to carry. well made. good brakes good lightings

I purchased the zero 9 scooter, and had it for a month now. Had to take it in for rear brakes jammed with only 50 km on it, and was repaired. The front lights no longer works just the stem lights and under deck. The front end makes loud clicking sound Either from front wheel or front suspension. The Zero 9 scooter (my version) has poorly built parts and not worth the money.

Received zero9 a month ago and l can't even explain how much fun I am having, this scooter moves like crazy and is really comfortable to ride on trails. Solid build, I would definitely recommend this scooter for someone who enjoys going on different paths, it'll get you there. Put 297km in a month, its great

Fantastic all round premium scooter at affordable price

My first e-scooter was the M365, and I fell in love with scooting around the city. But the M365 has no suspension, your bones feel every rut and pot hole, and expect a lot of punctures.The Zero 9 is a far superior build quality and just feels super solid and rugged. The dual suspension elevates your ride to an entirely new level. Glide over smaller ruts, the suspension can even handle jumps off curbs.It still folds up and you can easily fit two in any standard car trunk, or even take it on the bus or train. It's too heavy to walk around for long, so I do have a special u bar lock to secure it for short trips into the store etc.With a highly powered 600+ watt motor and LG battery, a full charge will get you 30km in real world conditions with some wind and hills, and I've hit up to 47km on private roads downhill. This is a best in class premium scooter that the lower priced options can't touch for both build and ride quality and overall performance.

I love this scooter. This is a very nice scooter. It is built very solid. The weight and feel of this scooter is awesome. Definitely feels and looks like a professional scooter. This is no toy. I really like the light up feature when riding at night. The whole thing lights up and glows. 2 headlights up front also. When you hit the brakes the red lights at the back flash. The suspension is amazing. The foot board is nice and wide with traction tape. The display is very cool. It is also in color. You definitely get what you paid for in this scooter. Zero scooters make most other scooters look like toys. Still the best all around scooter, period. Very few scooters at this price point have such incredible quality and features. Well worth the price! Smartwheel shipped my scooter safe and sound by courier.

Definitely worth your money

i bought this product recently and i am not disappointed. its a very comfortable scooter to ride with a good amount of distance and very compact. i would definitely recommend buying this for anyone who is likes electric scooters
View All
Close