Description
Airwheel H3T Electric Smart Self Folding Wheel Chair
Airwheel H3T wheel chair is an upgraded Smart Electric Wheel Chair that has been registered and approved by the "Medical Device Database" in Italy and Poland etc. Unlike its predecessor H3S, New H3T has improved auto power folding, seperate remote control, removable battery, adjustable foot rest and rear support wheels. This smart wheel electric wheel chair folds and unfolds itself with a click of a button. This is a smart choice for people with mobility issues to get around without having to worry about if they a special car or van. It fits in a trunk or almost all standard cars and its light weight design makes it easy to carry. 12.5" rear wheel, breathable cushion seats, stick control, adjustable speed with max 6km/h, and range about 35-40km are one of the key features that makes it stand out in the crowd.
H3T frame is made of high quality aluminum alloy material, with better load bearing design and durability. It weighs only 65 lbs (29.5Kgs) without battery and can carry up to 287 lbs (130kgs)
Easy Manual and Electric modes
H3T can easily be switched between full electric or manual mode. In Manual mode wheel chair can be pushed by other person. To switch to manual mode Pull the tie rod to the open position, then the brake of wheelchair will not work in manual mode, when you pull the tie rod to the close position, it will switch to electric mode and brakes will engage.
H3T is equipped with beeping noise to ensure the safety of rider and people when reversing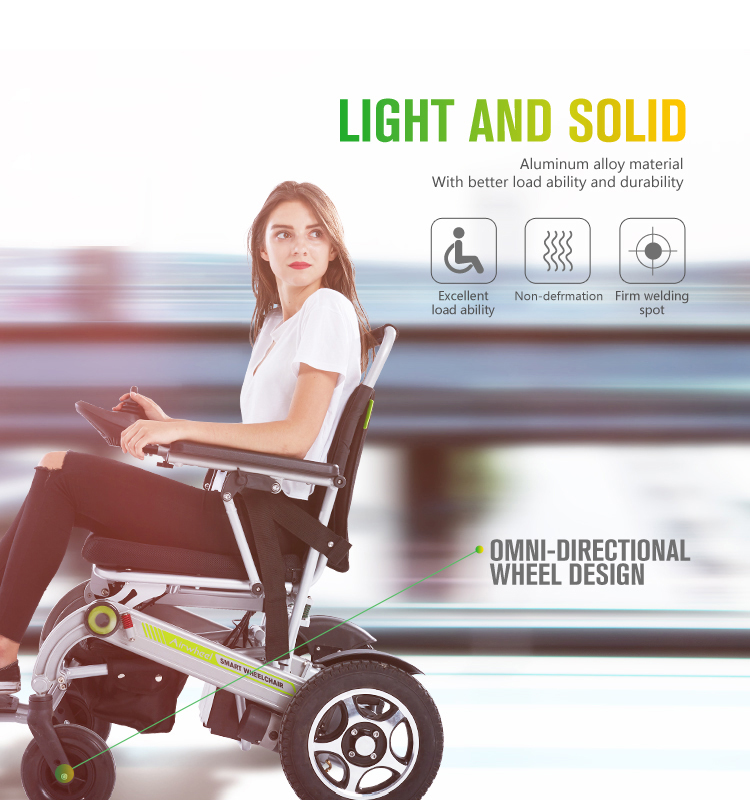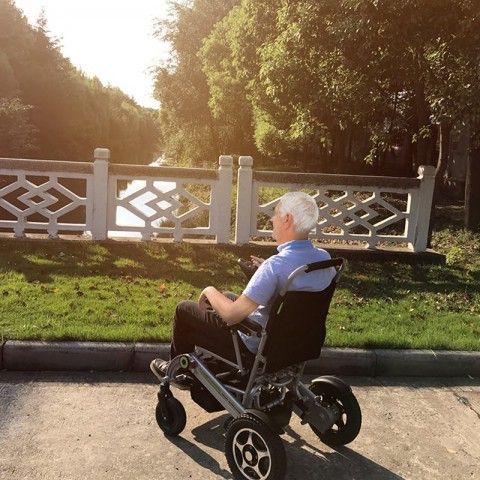 Electrical System Multi-protection
Battery equalization, Overvoltage protection, Overcharge protection, Over discharge protection, Overcurrent protection,
Short-circuit protection, Temperature protection Anti-counter-flow protection
Lithium Ion Removable Batteries 25.2V 524Wh offer great range up to 35-40km. The battery features numerous recharge times, and is durable as well as made with safer design to prevent fire related incidents.
The rear 200w x 2 gear motor with dual drive provides powerful kinetic energy and you can drive up to 6km/h at 8 deg incline without feeling any stress on motors.
H3T Electromagnetic brake system and stops immediately through control shift. the brake system stops it from moving on incline as well.
Specification
Standing Size: Height:980mm x Length:1100mm x Width:620mm
Folding Size: Height:400mm x Length:890mm x Width:620mm
Frame: Aluminum alloy 6061 +PU +Nylon
Item Weight: ~29.6kg / 65lb (battery removed)
Max.Load: 130kg / 286lb
Max.Climbing Angel: About 8°
Standard Max. Speed: 6km/h / 3.8mph
Battery: lithium 25.2V 524Wh
Charge Time: about 5~6 Hrs
Applicable Temperature: -15°C~50°C
Motor Power: 200W *2 (rear wheel) Dual-drive brush motor with clutch pull rod; revolving speed: 3776rpm
Front Wheel: 8 inch
Rear Wheel: 12.5 inch, inflatable tire
Rotation Radius: 1.2m
Over-Obstacle Capacity: <40mm
Trench Crossing Capacity: <100mm
Reduction Gearbox: worm and gearreduction ratio 1: 32
View All
Close
Warranty Information
Parts: 3 Months Limited Warranty | Labour: 3 Months Limited Warranty | Warranty is only against manufacturing defects related to functionality of the product | Warranty Limitations / Exclusion: Damage to the product from misuse and/or neglect, accidental damage, water/liquid damage, salt damage or from not adhering to the instructions in the Owner's Manual. Damage caused by exceeding maximum weight, attempting tricks or running into obstacles like curbs or walls, cut outs, riding over safe/recommended speed, using after market chargers or using fast chargers over the maximum limit, water or liquid damage or submerges into the water. Improper or invalid documentation, including but not limited to lack of a warranty sheet, original invoice or discrepancies on the invoice.
View All
Close