The all new Relync R1 scooter is the perfect accessibility asset. With a minimalist design and a range of 30 kilometers, this scooter checks everything needed in the mobility sector. Whether you need help getting around due to handicaps, age, or any other reason – The R1 can help. It comes in a very light package of just 50 pounds, and is equipped with a folding capacity to fit into small spaces in just seconds. Once folded, the scooter works basically as a luggage roller, and with the added handle bar customization, the scooter can fit into just about any car space.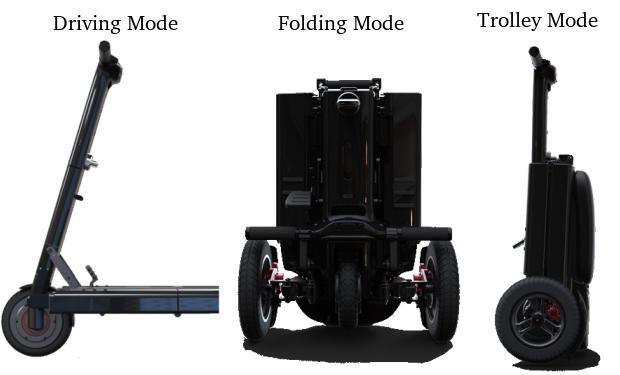 The R1's Versatility
Convenient
If you weren't aware, this scooter has an unbelievable amount of tech built in. It's not your ordinary mode of transport. The on-board navigation and precision engineering is enough to make an F1 mechanic blush. Plus you can track, lock and unlock directly from your mobile phone.
The simple and easy to use dashboard provides the user with relevant information, while the two batteries on the side are easy to access and charge. You can even charge the scooter with a wall outlet even if the machine is fully folded.
This mobility scooter comes at a low price in comparison to competitors, and is a great example as to why technology advances and becomes more accessible. The future is now, the R1 is among the easiest and most fun ways to get around if your mobility is hindered. This is a very affordable scooter loaded with cunning edge tech and greater portability than competitors.
If you're interested, we'd love to show you this amazing scooter in-person ! If you're not nearby, you can find our product page to purchase one here.
& if you'd like to see the R1 in action, check out this helpful video:
https://www.youtube.com/watch?v=YJpYD3ZZHf8 Smart Wheel Canada
3070 Mainway, U#12, Burlington, ON L7M 3X1
Recent Posts
Ebikes are gaining popularity as a cheap, healthy, and environmentally responsible mode of transport …

The all new Relync R1 scooter is the perfect accessibility asset. With a minimalist design and …

As summer comes to a close, we at Smartwheel have come out with a Summer closing sale promising you …